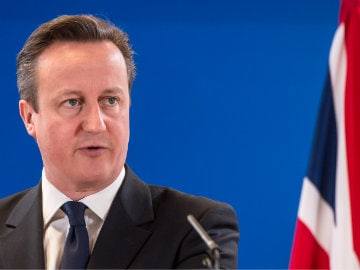 London:
An emergency recall of Britain's parliament to decide whether to join US-led air strikes against the Islamic State group in Iraq could take place as early as Friday, Britain's press reported.
Prime Minister David Cameron is due to meet Iraqi counterpart Haidar Al-Abadi in New York on Wednesday, on the sidelines of a UN General Assembly, and it is expected that there will be a formal request for Britain to take part in the strikes.
The British parliament is currently in recess.
According to the BBC, Cameron will wait until after the annual conference of the opposition Labour Party, which ends late on Wednesday, before announcing the recall, but the prime minister's Downing Street office called the reports "speculation".
Dozens of IS and Al-Qaeda militants were reported killed in air strikes unleashed this week by the United States and its Arab allies in Syria.
Bahrain, Jordan, Qatar, Saudi Arabia and the United Arab Emirates joined the operation, which involved fighter jets, bombers, drones and Tomahawk missiles fired from US warships.
US and French forces have already been carrying out air strikes in neighbouring Iraq.
Cameron was embarrassed last year when his plans to launch strikes against Syrian President Bashar al-Assad's regime were rejected by parliament. But opposition leader Ed Miliband on Wednesday said he was "open to the possibility" of supporting air strikes against Islamic State in Iraq.
"How will I judge any proposal? Whether Britain can have an effect, whether we can succeed and whether it is legitimate and lawful. But I am open to the possibility," he told BBC News.
"Before I commit British combat troops I want to look at what the proposition is and the nature of that proposition."
But Miliband said the situation in Syria was different as it "wasn't a state that is asking for intervention".
"We would like to see a UN Security Council resolution," he added.
The reports said parliament may only be asked to approve British military action in Iraq, and not in Syria.
Britain is already providing machine guns and ammunition to Kurdish forces fighting IS jihadists in Iraq.
Six British Tornado jets and a refuelling tanker based in Cyprus have also been carrying out surveillance missions over northern Iraq in recent weeks.