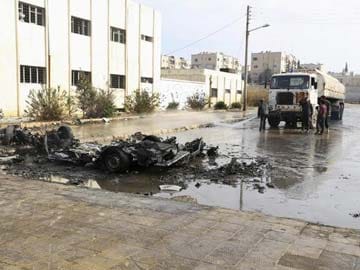 Baghdad:
Bombs killed at least 18 people in Iraq on Sunday, police and medics said, as the Shi'ite-led government sought to evict al Qaeda-linked militants from Falluja without a fight.
No group claimed responsibility for the bombings, but Sunni Islamist insurgents have stepped up a violent campaign in the past year, engulfing Iraq in its worst bloodshed for five years.
Sunday's deadliest blast was caused by a car bomb that killed nine people outside a bus terminal in the Allawi district of Baghdad, near the site of a suicide bombing four days ago at an airfield where 23 army recruits were slain.
Another car bomb in Baghdad killed five people, while two bombs planted near a supermarket in the town of Tuz Khurmatu, about 175 km (110 miles) north of the capital, killed at least four people and wounded 28, police said. Most of the victims were Shi'ites from Iraq's ethnic Turkmen minority.
A witness who did not give his name said the bus terminal bomb also targeted army recruits who were registering their names at the Muthanna airfield. "When they left the airport and came and gathered here, the bomb went off," he said.
The government has asked volunteers to join its battle with al Qaeda militants in the Sunni-dominated province of Anbar bordering Syria, where the militants are also fighting.
On January 1, militants seized Falluja and parts of the nearby city of Ramadi, the provincial capital of Anbar, raising the stakes in a confrontation with the Shi'ite-led government.
Prime Minister Nuri al-Maliki has deployed tanks and artillery around Falluja, but is allowing time for negotiations aimed at securing the peaceful eviction of the militants of the al Qaeda-affiliated Islamic State of Iraq and the Levant (ISIL).
Security forces and armed tribesmen retook Ramadi last week.
At least 60 civilians and tribal fighters have been killed and nearly 300 wounded in the past two weeks, according to Anbar health officials. No casualty figures were available for militants or members of the Iraqi armed forces.
SECTARIAN TENSIONS
Residents of Falluja, 70 km (45 miles) west of Baghdad, said most shops in the city centre were open on Sunday, as people prepared for a religious holiday.
Some families who had fled the city were returning, although many still feared a military offensive. Residents said the town of Khalidiya, which lies between Ramadi and Falluja, had come under army fire from mortars and helicopters.
Officials in Baghdad have blamed Iraq's slide back into violence on the conflict in Syria, which has inflamed sectarian tensions and fuelled instability across the region.
Many in Iraq's once-dominant Sunni minority share ISIL's enmity towards Maliki's government, which they perceive as pursuing narrow Shi'ite interests and in thrall to Iran.
But others are deeply hostile to al Qaeda, including tribal leaders whose Sahwa (Awakening) militias helped U.S. troops rout the militants who controlled much of Anbar at the height of Iraq's insurgency and sectarian conflict in 2006-07.
The departure of U.S. troops two years ago weakened the Sahwa fighters, who complained of a lack of government support even as they came under sustained attacks from al Qaeda.
© Thomson Reuters 2014