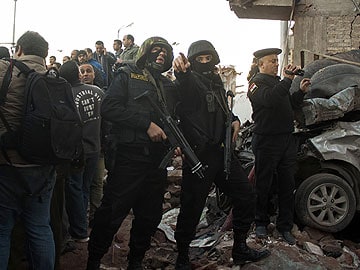 Cairo:
An explosion went off on Sunday outside a military intelligence building in the countryside northeast of Egypt's capital, wounding four, military and security officials said.
Security officials said remains of a vehicle were found nearby the building in Anshas, a village in Sharqiya province that houses a number of military facilities, and they are looking into whether the blast, which damaged a wall, was a car bomb. Initial reports suggested that explosion was caused by a hand grenade thrown at the building.
The officials spoke on condition of anonymity because they are not authorized to brief reporters at the early stage of the investigation.
State TV showed footage from the site of the explosion in the rural village, with debris from the damaged wall leaving a big gash in the building.
Attacks on security targets have become frequent following the July 3 ouster of Islamist President Mohammed Morsi. A Sinai-based militant group has claimed responsibility for a Tuesday car bomb at a Nile Delta security headquarters that killed 16, mostly policemen. Fears have been rising that the months-old violent campaign against troops will increasingly turn to civilians, particularly after a bomb went off near a public bus last week and another found on a bus in Cairo was defused Saturday.
State TV also reported Sunday that a homemade bomb was found outside the medical school of Al-Azhar University branch in the Nile Delta city of Damietta. Governor Mohammed Abdel-Latif told the TV that the bomb, made out of a sauce can, ball bearings and wires, was reported by passers-by, leading civil defense teams to defuse it.
The government has recently blamed the Muslim Brotherhood, the group from which Morsi hails, for the attacks, labelling the group a terrorist organization. The government provided no evidence linking the Brotherhood to the militant attacks. The group has been protesting the ouster of Morsi, campaigning against the military-backed authorities and its transitional plan.
Military spokesman Ahmed Mohammed Ali said on his official Facebook page that the explosion caused damage to the back wall of the military intelligence office in Anshas, and left four soldiers guarding the building injured. He said an investigation is under way to determine what caused the explosion.
He said the blast was one of a series "of cowardly terrorist operations carried out by the forces of darkness and sedition against the people of Egypt, military installations and vital targets."
Sherif Makein, an emergency service official in the province, told the private ONTV station that none of the injuries was serious.
Anshas, nearly 50 kilometers (30 miles) northeast of Cairo, is home to a number of military facilities and Egypt's first experimental nuclear reactor.