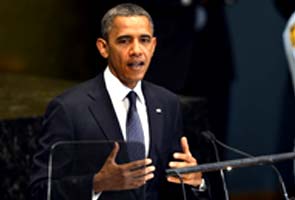 Washington:
President Barack Obama warned Syria on Monday that the use of chemical weapons would be "totally unacceptable" and that the country's leaders would be held accountable.
Obama said that if Syrian President Bashar Assad made the "tragic mistake" of deploying chemical weapons, there would be consequences. Obama stopped short of detailing those consequences.
Obama's comments came as US officials said intelligence had detected Syrian movement of chemical weapons components in recent days.
The White House said earlier on Monday that it was increasingly concerned that the beleaguered regime in Syria might be considering use of chemical weapons against its own people and warned that doing so would "cross a red line."
White House press secretary Jay Carney said U.S. officials were closely monitoring Syria's proliferation of sensitive materials and facilities, as opposition to the Syrian government grows.
Obama spoke later on Monday at a gathering on securing nuclear weapons materials.