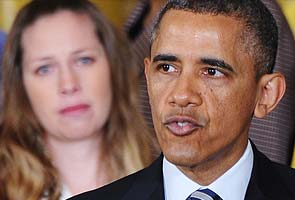 Washington:
US President Barack Obama will unveil his long-awaited budget for the fiscal year 2014 on April 10, two months after he was required by law to do so, the White House said on Thursday.
Obama's fiscal blueprint has been held up by successive showdowns between the White House and Republicans in Congress on taxation and spending.
House of Representatives Republicans and Senate Democrats have passed dueling budgets in their respective chambers, and Obama's version will set off a new round of wrangling on how best to cut the deficit.
Obama is expected to call for more tax hikes on the rich which Republicans refuse to countenance while seeking big cuts in social programs beloved of the president's Democrats.
The Senate plan seeks to gather nearly $1 trillion in new revenue over the next decade, mostly through the closure of tax loopholes that favor the wealthy, and an equal amount in reductions to government spending.
The House of Representatives budget resolution seeks to balance the budget within 10 years through big reductions in federal spending, the overhaul of health care programs for the elderly and the repeal of Obama's health care law.
All three approaches will have to be reconciled into one bill in what is likely to be a hugely contentious process in fiercely partisan Washington, before a final budget for 2014 can be agreed.