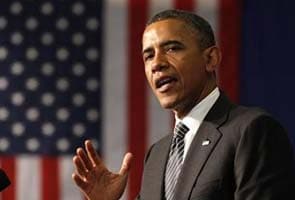 Washington:
President Barack Obama outlined plans on Thursday to limit the use of U.S. drone strikes and took steps aimed at breaking a deadlock on closing the military prison at Guantanamo Bay, Cuba.
In a major foreign policy speech after some two weeks of dealing with domestic scandals, Obama underlined his support for press freedoms in the face of recent criticism of his administration's recent probes to stop leaks of classified information.
Obama was to say that the United States will only use drone strikes when a threat is imminent, a nuanced change from the previous policy of launching strikes against a significant threat.
Under a new presidential guidance signed recently, Obama will say the Defense Department will take the lead in launching drones, as opposed to the current practice of the CIA taking charge.
And any drone strike will only be launched when a terrorism suspect cannot be captured. The United States will respect state sovereignty and will limit strikes to al Qaeda or associated targets, according to senior administration officials who briefed reporters ahead of the speech.
"Importantly before any strike is taken, there must be a near certainty that no civilians will be killed or injured in the strike," a senior official said.
The use by the United States of armed drone aircraft to attack extremists has increased tensions with countries such as Pakistan and drawn criticism from human rights activists. He said earlier this year he wanted to be more open about the issue.
GREATER SCRUTINY
Obama has faced pressure from both supporters and opponents to allow greater scrutiny of the secretive decision-making process guiding drone use. He said earlier this year he wanted to be more open about the issue.
The development comes after the Obama administration acknowledged on Wednesday that four Americans abroad had been killed in drone strikes since 2009 in counter-terrorism operations in Yemen and Pakistan, including militant cleric Anwar al-Awlaki.
Faced with congressional opposition, Obama has been frustrated by his inability to carry out a 2008 campaign pledge to close the Guantanamo Bay prison. A hunger strike by 103 of the 166 detainees has put pressure on him to take action.
While he cannot close it on his own, he did announce some steps aimed at getting some prisoners out. He lifted a moratorium on detainee transfers to Yemen out of respect for that country's reforming government.
He called on Congress to lift restrictions on the transfer of terrorism suspects from Guantanamo and directed the Defense Department to identify a site to hold military commissions for Guantanamo detainees.
Officials said he planned to pick a senior State Department envoy to handle detainee transfers, a position that has vacant since January.
The speech offers Obama a chance to change the subject after dealing with controversies about his handling of attacks in Benghazi, Libya, where four Americans were killed, Internal Revenue Service scrutiny of conservative groups, and government targeting of journalists in leak probes.
© Thomson Reuters 2013