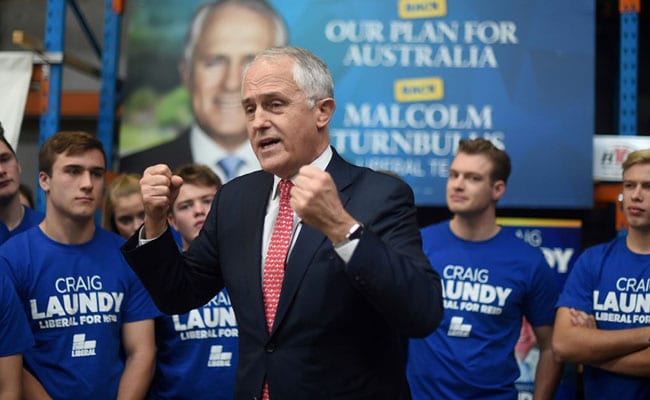 Sydney:
Australian Prime Minister Malcolm Turnbull today named a new cabinet little changed from that with which he narrowly won July 2 elections, eschewing a major reshuffle in favour of consolidating his shaky position.
Turnbull just barely scraped together a majority of 76 seats, the minimum needed to avoid relying on support from independents and small parties.
Industry Minister Christopher Pyne took on the new role of Minister for Defence Industry, gaining control over one of the world's most valuable defence contracts, a A$50-billion ($38-billion) submarine-building project in his state.
No ministers lost their jobs, but neither did coalition partner the National Party pick up any critical slots on the frontbench, in a surprise move.
Although Turnbull has formed a narrow majority government, his gamble in calling the election backfired badly, with a swing to the centre-left Labor opposition and a rise in the popularity of minor parties and independents.
Industry body the Queensland Resources Council praised the appointments of Resources Minister Matt Canavan, Environment and Energy Minister Josh Frydenberg and the shift of former environment minister Greg Hunt to industry, science and innovation.
"The resources sector requires steady safe hands to ride through the commodities downturn and in the face of a relentless green activist campaign," Chief Executive Michael Roche said in a statement.
But Turnbull's narrow margin of victory over Labor leaves him likely to be forced to rely on independents, who won five seats, to ensure the passage of legislation.
That raises questions about how effective his government will be in the long term, especially without the support of powerful conservatives.
After the election, the Australian government faces even more foreign investment sceptics than before, due to the increased number and prominence of rural-centric Nationals members in the ruling Coalition.
Australia this year rejected a A$371-million bid for its biggest farmland holder, Kidman & Co, after Treasurer Scott Morrison ruled the sale was not in the national interest.
A source involved in the current negotiations told Reuters that Chinese bidder Hunan Dakang Pasture Farming Co Ltd would not lodge a new bid until it was clear a foreign-controlled offer would be acceptable under the new-look government.
"Why would they?" said the source, who asked not to be identified over concerns that public comments might hurt the deal. "They don't know what the rules are."
Dakang did not respond to requests for comment.
Foreign investment of more than A$55 million in agriculture is screened by the Foreign Investment Review Board, on national interest criteria. Australia's treasurer must give final consent for such a transaction to proceed.
© Thomson Reuters 2016