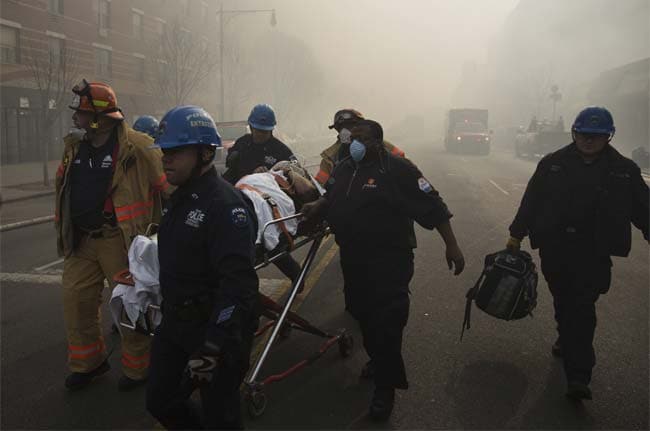 New York:
A gas leak triggered a large explosion in East Harlem on Wednesday morning, destroying two buildings, killing two people and injuring at least 18 others. More than a dozen remain missing, according to authorities.
Firefighters were still battling flames in the afternoon and prepared to sift through the debris for survivors, most likely a delicate operation that could last into the night. (
New York buildings collapse after explosion
)
"This is a tragedy of the worst kind because there was no indication in time to save people," Mayor Bill de Blasio said during a news conference shortly after noon.
"There will be a search through the rubble as soon as the fire has been put out," de Blasio said. "This will take quite a bit of time."
A senior city official said that they had received reports of more than a dozen people who cannot be reached, but cautioned that the missing may simply be out of touch.
The explosion, which could be heard more than a mile away, blew out windows in surrounding buildings and sent debris crashing down onto nearby streets.
Witnesses reported seeing people trapped in their cars, in the rubble and in neighboring apartments. They described desperate rescue attempts even as family and friends of some people who live in the destroyed buildings sought information about their condition.
The Fire Department said it received the first report at 9:31 a.m., and discovered upon arriving that two residential buildings had completely collapsed.
More than three hours after the explosion, firefighters continued to battle flames. Trained dogs were assisting in the search for survivors.
"We have to be very careful," said Fire Commissioner Salvatore J. Cassano. "The building is in a very precarious position."
Officials said the only indication of danger came minutes before the explosion occurred.
Elizabeth Matthews, a spokeswoman for the Consolidated Edison utility, said that a report from someone claiming to smell a heavy gas odor came in at 9:13 a.m. The person reported smelling gas in her apartment but noted that it could have come from outside.
At 9:15 a.m. two Con Edison crews were dispatched and they arrived just after the explosion.
The two collapsed buildings were five stories, with at least a dozen apartments between the two of them. They were about 55 feet tall, according to Buildings Department records.
Jennifer Salas, 20, lives in one of the collapsed buildings.
She said her husband, Jordy Salas, was in the building at the time of the collapse and was still missing.
"There's six floors in the building, each floor has one apartment," she said. "Last night it smelled like gas but then the smell vanished and we all went to sleep. We tried to find the source of the gas but since the smell left, we all went to sleep."
Through tears, she begged firefighters to find her husband.
In the immediate aftermath, witnesses described a panicked scene, with people running, unsure what was happening.
As his own building rumbled on Lexington Avenue, Michael Lewis, 48, raced to the scene, arriving before most emergency personnel.
He and a small group of neighbors surrounded a van, partly submerged by the rubble, and could see four people trapped inside, Lewis said.
"I heard some moans and groans," he said.
As the group tore through the wreckage, beside a mountain of debris on the sidewalk, emergency responders arrived and pulled Lewis and the others away.
"I'm a New Yorker," Lewis said. "You've got to help the people."
David Antar, the owner of a nearby deli, felt his building shake around 9:30 a.m.
He ran toward the scene, joined by dozens of bystanders, he said, as smoke filled the sky. Flames shot out of the buildings, and cars that were stopped at a traffic light were covered in debris.
"The whole building is in the middle of the street," Antar said.
Waldemar Infante, 24, said that there was a church and a piano store on the street level of the buildings.
"I'm sure there was people in that building when that happened," he said.
More than 200 firefighters from 44 units responded and were still working to extinguish the fire as paramedics came to the scene. They donned surgical masks as a thick, gray smoke blanketed the neighborhood.
Metro-North Railroad service in and out of Grand Central Terminal was suspended, officials said, with debris from the buildings thrown onto the elevated train tracks.
Commuters on a southbound Metro-North train that had just passed the area said that the train shook violently. The impact felt like the last car had been hit broadside by something large, passengers said.
De Blasio said that officials had been in touch with the pastor at the Spanish Christian Church, located on the ground floor of one of the collapsed buildings, but were unsure if there were people there at the time.
He said 15 residential apartments, six in one building and nine in the other, had been destroyed.
Eusebio Perez, 48, a piano technician who lived on the top floor of one of the buildings for 10 years, said that when he left for work this morning his home was in one piece.
He rushed home to find only devastation.
"Oh, my God. There's nothing left," he said. "A pile of bricks. Nothing's there."
© 2014, The New York Times News Service