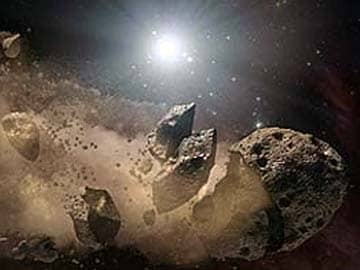 Washington:
Near-earth asteroids provide a unique opportunity to test the new technologies and capabilities we need for future human missions to Mars, NASA has said.
NASA will mark 45 years of the first human landing on the moon July 20. It will launch a robotic mission to rendezvous with a near-earth asteroid around 2019, NASA said in a statement.
"The spacecraft will either capture an asteroid in its entirety or retrieve a boulder off a much larger asteroid, then redirect the asteroid mass to a stable orbit around the moon," NASA said.
"The new technologies we test through the Asteroid Redirect Mission, and the new human space flight capabilities we prove by sending astronauts to study the asteroid, will make important advances to safely send humans to Mars," the statement added.
This includes tools like Solar Electric Propulsion, a highly efficient way to help transport large objects and heavy cargo to support future Mars missions.
Outlining future projects, NASA said it would continue to make significant investments in new technologies vital to achieving exploration goals. This includes advancements in entry, descent and landing technologies such as Low Density Supersonic Decelerators.
July 20, 2014 will mark the 45th anniversary of the first "Moonwalk". It was 45 years ago that Neil Armstrong took the small step onto the surface of the moon that changed the course of history, NASA said in a statement.
"The years that followed saw a 'space age' of scientific, technological and human research, on which we have built the modern era. We stand on a new horizon, poised to take the next giant leap - deeper into the solar system," NASA said.
The Apollo missions blazed a path for human exploration to the moon and today we are extending that path to near-earth asteroids, Mars and beyond, the statement added.