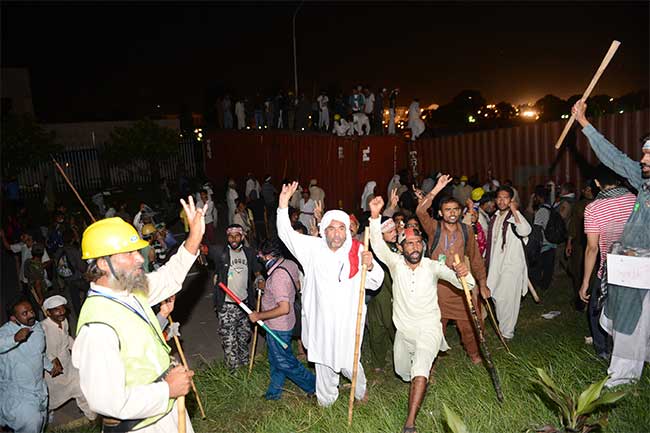 Islamabad:
The protests in Pakistan demanding the ouster of Prime Minister Nawaz Sharif -- headed by opposition leader Imran Khan and cleric Tahir-ul-Qadri -- intensified in Islamabad on Saturday night, as hundreds of protesters broke the fence around parliament and entered the building. (
Pakistan Army Chief Mediates; Meets Imran Khan, Cleric Tahir-ul-Qadri
)
Many protesters also marched towards PM Sharif's residence in the high-security Red Zone. The police, who initially allowed the protesters to continue the march, reportedly fired tear gas later to disperse them. Over 100 protesters have been arrested.
Interior Minister Nisar Ali Khan later told media personnel that Parliament House has been cleared of protesters.
"It wasn't easy dealing with a mob carrying weapons,hell bent on destruction but govt acted cautiously & wisely," tweeted Mr Sharif's daughter Maryam.
One woman protester was killed in the clashes, said reports, adding that at least 200 other protesters were injured. Eight policemen were also injured in the protests, said reports by Pakistani TV channels.(
Pakistan Police Launch Murder Probe To Defuse Crisis
)
Mr Khan, the leader of Pakistan Tehreek-i-Insaf, urged his supporters to remain peaceful. He said, "We are here and we will stay here tomorrow as well. We will not leave until Nawaz Sharif resigns".
Khawaja Saad Rafique, a minister in PM Sharif's cabinet, told media personnel that no decision has been taken by the government about arresting Mr Khan or Mr Qadri, the leader of Pakistan Awami Tehreek.
Thousands of protesters had been camped outside Parliament since August 14. They want PM Sharif to quit, claiming the election which swept him to power last year was rigged. (
Imran Khan Looks Isolated as Pakistan Crisis Reaches Crossroads
)
The protesters used crane and bolt cutters to inch their way past a barricade of shipping containers as authorities rushed forces to deal with the volatile situation. . (
No Option But Army Role to End Pakistan Crisis: Minister
)
The Pakistan government, meanwhile, ruled out the possibility of Mr Sharif's resignation. "There is no question of PM Sharif's resignation, nor will he be proceeding on leave," the Pakistan government said in a press release. (
Tahir-ul-Qadri Issues 24-Hour Deadline For Nawaz Sharif to Resign
)
Earlier today, PM Sharif had dismissed the political crisis as "a tiny storm" that would end soon. (
Pakistan PM Dismisses Political Crisis as 'Tiny Storm'
)
"This is just a tiny storm, a tumult, which would end in a few days," he told reporters.