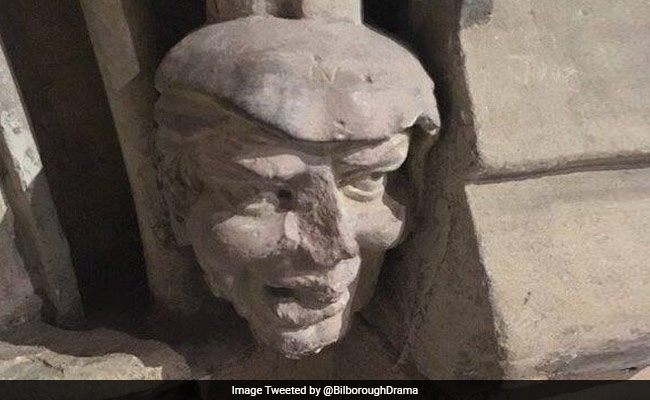 London:
A 700-year-old church carving in the UK is claimed to have a resemblance with the face of US President Donald Trump because of his infamous comb-over hairstyle, according to media reports. The carving at Southwell Minster church in England has become something of a star because of its uncanny resemblance to Mr Trump.
There are hundreds of strange and comical sculpted faces in the entrance to the old cathedral. The Trump's carving was snapped way before he became president but has recently caused quite a stir on social media, The Sun reported.
The grotesque was spotted and tweeted by writer and broadcaster Samira Ahmed, who was on a mini-break with her family at the time and stopped to visit Southwell Minster in Nottinghamshire in England.
Ms Ahmed, who lives in London and presents BBC Radio 4's Front Row programme, said: "My husband is obsessed with old churches, and said we had to stop.
"I think it's weird, but very appropriate, that I found it. I think it's fascinating, because it looks so modern."
Ms Ahmed, who lived in Wollaton when doing work experience at the Post back in 1989, has since seen her original photo retweeted more than 500 times.
"Proof of #endofdays? Donald Trump was carved as a gargoyle in Southwell Minster 700 years ago..," she tweeted.
The 14th-century head is one of 280 at the Minster, and is located at the pulpitum, a screen which separates the nave from the choir.
It is thought to be made of stone, with some plaster renovations which took place in the 19th century.
Reverend Canon Nigel Coates, who is based at the cathedral, said: "We knew the head well, but none of us had spotted the Donald Trump hairstyle before. It's really the hairstyle that is similar."
"He's among the 'lower level' of heads, not among the kings and queens and merchants. So Donald Trump might be flattered that he features in 14th century Mansfield stone-but not that he's not among the kings and queens," he said.