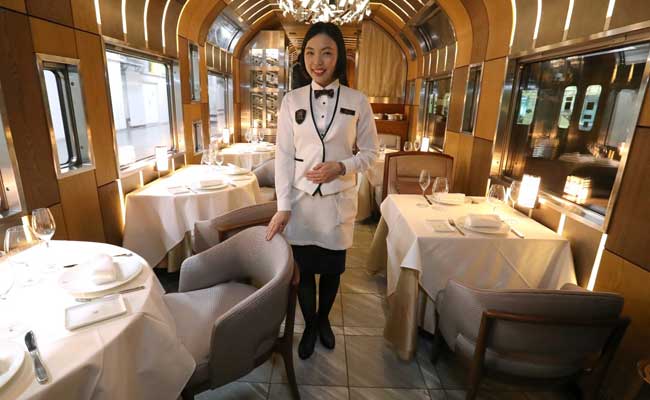 Tokyo:
It's got Michelin-starred chefs, solid cypress bathtubs and a cosy snug complete with roaring fire: the Shiki-Shima could hold its own against any five-star hotel. Not bad for a train.
In a country best known for its super-fast "Shinkansen" bullet trains, the emphasis in Japan's latest extravaganza on rails is on savouring the moment, with no expense spared to create the most luxurious travelling experience.
Customers willing to shell out up to 950,000 yen ($8,500) per person can enjoy a top-of-the-range suite aboard the Shiki-Shima for four days and three nights of unparalleled extravagance.
The 10-car train has huge viewing windows through which customers can see the northern Japanese countryside used to grow the ingredients in seasonal delicacies prepared by the onboard chefs.
After dinner they can gather for a drink around the piano, or sit and soak up the atmosphere next to the fireplace -- actually a trick created by steam and coloured light -- on a journey that takes them from Tokyo to the northernmost island of Hokkaido and back again.
The light-gold "Train Suite Shiki-shima" sleeper, whose name means "Four Seasons Island", departed Ueno Station in Tokyo for its maiden journey on Monday, carrying 33 passengers, according to operator East Japan Railway.
And despite the hefty price tag, there is no shortage of customers --tickets are booked out through to March next year.
The Shiki-Shima is not the first uber-luxurious train to hit the tracks in Japan, which seems to have a supply of discerning and moneyed travellers.
In 2013, Kyushu Railway unveiled its "Seven Stars" service with a piano and a bar, top-end dining and luxury suites, while West Japan Railway will launch the "Twilight Express Mizukaze" sleeper in June.