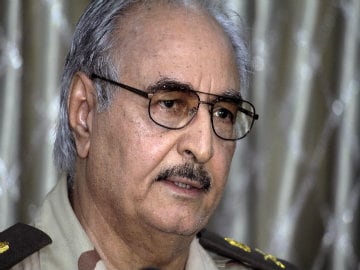 Tripoli, Libya:
A security official and witnesses say airstrikes have targeted a militia camp in Libya's eastern city of Benghazi, sending columns of black smoke into the air and sparking retaliatory gunfire.
The official says two airstrikes hit the February 17 militia compound Wednesday as part of renegade Gen. Khalifa Hifter's offensive against Islamist militias.
Hifter has rallied the support of the country's politicians, tribes and army units.
February 17, founded by Islamist Abu Katef, is one of the biggest and most powerful militias in Benghazi. Its forces originate in the rebel brigades that toppled longtime dictator Moammar Gadhafi.
The official says the militia responded with anti-aircraft fire. The official spoke on condition of anonymity because he was not authorized to speak to journalists.
Witnesses say panicked residents fled the area.