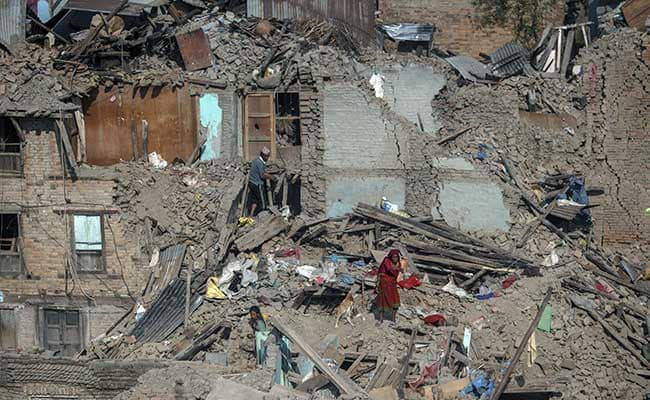 Barcelona:
Six weeks before Nepal was hit by a magnitude 7.8 earthquake, the country's foreign minister told a global conference on disasters that a major quake in the Kathmandu Valley would likely cause "catastrophic" loss of life.
With the death toll from the April 25 earthquake over 7,500 and rising, the warning was prescient. Many experts say the outcome would have been worse but for efforts already made to create awareness of the risks and keep people safe.
According to the UN Office for Disaster Risk Reduction (UNISDR), Nepalese hospitals that had been strengthened to be more resilient to quakes were able to withstand the shaking, allowing them to continue functioning afterwards.
And an aid base opened in March at Kathmandu airport by the United Nations with UK funding, plus training for staff and logistics support from Deutsche Post DHL Group, have eased the flow of relief goods.
Margareta Wahlstrom, head of the UNISDR, told the Thomson Reuters Foundation she was "quite convinced" that initiatives to reduce the risk of disasters in Nepal must have helped limit loss of life in the quake.
She noted that community groups had partnered with local government to prepare for disasters, and work had been going on for decades to improve construction and make public infrastructure safer.
"Of course ... it goes far too slowly for what we know is a high-risk area, but it's been going on steadily," she said.
The National Society for Earthquake Technology-Nepal (NSET), for example, has given technical advice in a donor-funded government programme to strengthen schools against earthquakes.
The 350 to 400 schools that have benefited so far - most in the capital Kathmandu - did not collapse when the quake and aftershocks hit last month, said Ramesh Guragain, NSET's deputy executive director.
Government data show that some 1,400 schools were damaged in 26 districts, but fortunately the quake struck on a Saturday when children were not in class.
According to figures released on Monday, more than 200,500 houses have been destroyed and 186,285 damaged. The government thinks the number of wrecked homes could rise to half a million, according to a UN report.
Guragain's organisation has been working in 30 cities over the past 10 to 15 years, with US backing, to put into effect Nepal's 1994 building code, and he and his colleagues have learned that having the right regulations is only the start.
People need to be told that following the building code will make their home and family safer. There must be enough producers of materials, masons and engineers capable of building those homes.
Finally, authorities have to make the standards a legal requirement and introduce incentives to ensure compliance.
COST-EFFECTIVE
A key factor is explaining to people that building earthquake-resistant houses is not expensive, Guragain said.
"In countries where there is high vulnerability and the buildings are very weak, investment to increase their safety is very effective," he told the Thomson Reuters Foundation from Kathmandu.
For rural buildings, usually made with stone and mud, simple ways of tying the walls together with wood or concrete elements can make them around 80 percent safer and adds only 5 percent to the building cost, Guragain said.
The extra cost of strengthening old buildings - known as retrofitting - may be too much for individuals, especially in a poor country like Nepal, but is still cost-effective for public buildings, he added.
Risk reduction experts say the best time to push for more investment of this kind is often in the wake of a major disaster, when the danger is still fresh in people's minds.
"The reason we have ... exposure to hazards is that there is something wrong with ... the way we are building our cities," said Marcus Oxley, executive director of the Global Network of Civil Society Organisations for Disaster Reduction (GNDR).
Disasters like the Nepal quake - which damaged rickety, close-packed buildings in the capital and elsewhere - expose these problems and offer a chance to build back better, he said.
"Don't wait several months, start immediately to think in this tragedy, how can we use what is now happening to improve some other things?" UNISDR chief Wahlstrom said.
She advised assembling a team of Nepali experts as soon as possible, with outside support if needed, to plan reconstruction and better urban design, before people begin rebuilding themselves in ways that would leave them at risk in the future.
DESIGN FOR THE POOR
Architecture Sans Frontieres (ASF) International, a network of professional groups including Engineers Without Borders Nepal, is setting up a network of built environment experts to assess the damage and help plan the rebuilding process.
ASF International chair Peter Newton warned against rushing to construct interim "pop-up" homes, which are not durable and are expensive compared with longer-term aid.
A better approach is to assess existing buildings so that safe ones can be re-occupied quickly, providing temporary shelter for those made homeless, he said.
ASF had organised a forum in Kathmandu in June before the disaster, and Newton said architects heading there may look to form links with Nepalese groups needing their skills, possibly by setting up low-tech projects and using these to help train local builders.
The challenge is how to provide relevant solutions for poorer social groups that have lost their livelihoods in the disaster, rather than just designing quake-resistant homes for them and raising money to get them built, he said.
"The aim is to have a bigger impact on people that are more vulnerable, which is a much trickier problem," he said.
© Thomson Reuters 2015