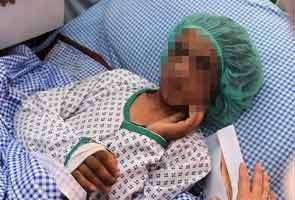 Kabul:
An Afghan child bride on Saturday spoke of how she was tortured by her mother-in-law who locked her in a toilet for six months, beat her, pulled out her fingernails and burned her with cigarettes.
Sahar Gul, 15, is recovering in hospital in Kabul, her face bruised and swollen, her skin bearing the marks of her ordeal, barely able to speak.
Police have said she was locked up when she defied her in-laws who tried to force her into prostitution. Her brother had sold her to her husband about seven months ago for $5,000.
"For several months I was locked up in toilet by my in-laws and particularly my mother-in-law,'' she managed to tell media in a frail voice during a visit from Afghan health minister Suraya Dalil.
The minister said it was an example of "increased cases of violence against women in Afghanistan."
Dalil said Gul was suffering from severe blood loss, with multiple burns and injuries. "She is also suffering from trauma and psychological problems," she said.
Gul was found in the basement of her husband's house in the northeastern Baghlan province on Monday access to the home. Three women including the mother-in-law were arrested over the case but her husband fled.