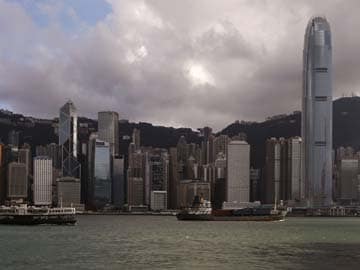 Hong Kong:
Activists said on Wednesday they expect more than half a million people to take to the streets on Hong Kong's annual protest day as fears grow over China's increasing influence on the city.
The predictions for the largest July 1 protest for more than 10 years came after 740,000 people voted in an unofficial poll organised by pro-democracy activists.
"We expect the numbers of participants in the rally might actually exceed the numbers of 2003," Johnson Yeung, head of the Civil Human Rights Front which organises the annual march, told AFP.
"Hong Kong people have started to think about their future and they fear that future may be oppressed by the central government," Yeung said.
The July 1 rally in the semi-autonomous Chinese city sees citizens protest on multiple issues, usually dominated by calls for democratic reform.
The massive march in 2003 saw 500,000 take to the streets in protest at a security bill, which was then shelved.
At least 40 officers carried out crowd control drills Wednesday at a local police college in apparent preparation for the rally.
Some officers acted as protesters carrying placards in a simulated stand-off, an AFP photographer said.
The police college will be used as a temporary detention centre if necessary and 4,000 officers are to be deployed on July 1, the South China Morning Post reported Wednesday, citing police sources.
Police and the justice department were not immediately available for comment.
The rally next Tuesday will come two days after the close of the unofficial referendum organised by pro-democracy group Occupy Central.
The referendum, which has angered Beijing, puts forward proposals that would give the public a say over the choice of candidates for the city's leader in 2017.
Hong Kong's chief executive is currently appointed by a 1,200-strong pro-Beijing committee.
Residents will be able to vote for chief executive in 2017, but China has rejected the idea of giving them a say in who can stand for the post. Many pro-democrats fear Beijing will hand-pick sympathetic candidates.
Occupy Central is planning to paralyse Hong Kong's financial district with thousands of protesters at the end of the year if officials do not allow public nomination.
In an opinion piece in the state-run China Daily Wednesday, Song Sio-Chong - a professor at Shenzhen University's Research Centre of Hong Kong and Macau Basic Law - slammed the Occupy movement, saying it "may possibly lead to serious social unrest - even acts of terrorism" in the city.
The former British colony was returned to China on July 1, 1997.
Under the handover agreement Hong Kong residents enjoy civil liberties not seen on the mainland, including free speech and the right to protest.