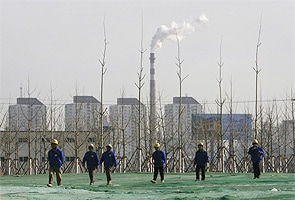 Beijing:
China, the world's largest consumer of coal, is paying a heavy price for its rapid development, with 258 of its cities experiencing acid rains due to excessive emission of sulphur dioxide, causing health hazards and damage to buildings and scenic spots, according to official statistics.
The study of the changing weather pattern in Xiamen in the southeastern part of Fujian province, regarded as one of the best places to live or visit in China, shows that the city is witnessing continuous acid rains, staining its centuries-old colonial buildings and the world's biggest Buddhist statue.
"Official statistics show every drop of rain in Xiamen in the first half of 2010 was acidic, recording pH levels of less than 5.6 (neutral is 7)," Zhuang Mazhan, chief engineer at Xiamen's Environmental Monitoring Central Station said.
"The acid rain is leaving buildings with yellowish signs of corrosion... and is slowly turning the leafy island yellow. It's making the city much less attractive," he told state-run 'China Daily'.
The rain is also ruining the giant Buddha statue, the largest in the world.
"Leshan Giant Buddha, which has stood in southwest China for more than 1,000 years, has also been badly affected. Its nose is turning black, hair curls have fallen from its head and its reddish body is becoming a charred grey colour," the daily said.
The 71-metre high and 28-metre wide statue, which was carved out of a cliff during Tang Dynasty (AD 618-907), had survived floods and earthquakes, but it was now at a greater risk from the man-made threat, it said.
Xiamen is not alone and according to the latest annual quality report published by the Chinese Ministry of Environmental Protection, 258 cities and counties recorded acid rainfall in 2009. For 112 of them, at least one in every two precipitations was acidic.
In fact, the areas suffering from acid rain are actually expanding, with some already reporting increased acidity, the daily quoted an internal study commissioned by the ministry with Tsinghua University as saying.
Monitoring stations in the Pan-Bohai Bay area in northeast China have recorded the highest frequency and acidity of acid rains in 15 years, the study said.
The coastal city of Dalian in Liaoning province, also a popular summer resort, reported an acid rain frequency of 51.6 per cent in 2007.
Acid rain is a by-product of burning coal and fossil fuels. Combustion releases sulfur dioxide (SO2) and nitrogen oxides into the air, which bond with water and oxygen molecules and then fall as sulfuric and nitric acid.
China, which consumes over three billion tonnes of coal per annum, is also the third largest acid rain region, after Europe and North America.
A 2005 report found that 28 per cent of the country's territory, mostly south of the Yangtze River was affected by acid rain.
Studies say that the acid rainfall is also increasing along the west coast of the Taiwan Straits, around Chengdu and Chongqing in southwest China and throughout the Pan-Beibu Gulf Economic Zone in the south.
All these regions are expected to become the country's next growth engines thanks to booming heavy industries, such as petrochemicals, energy, metallurgy and equipment manufacturing, Tsinghua study said.
The "sad findings" of the study suggest the country has failed to curb environmental deterioration despite huge anti-pollution efforts, Wei Fusheng, an academician at the Chinese Academy of Engineering, said, echoing the growing public complaints about worsening air quality in many major cities.
Last month, Beijing's municipal government announced it had hit its target of 266 "blue-sky days" in 2010 ahead of schedule.
However, the usual thick smog and the smell of smoke during winter - when the Central heating system is fired up - made some citizens doubt the accuracy of the capital's air quality ratings, the daily said.
Similarly, in the Yangtze River and Pearl River deltas, more hazy days are recorded every year.
"That shows the existing monitoring and assessment systems for the country's environmental quality have their defects," Wei said, adding that nitrogen oxides and other pollutants are still left out when it comes to emissions control.
Chinese officials say that the government is aggressively pursuing its promises made in late 2009 to cut the intensity of carbon dioxide emissions per unit of GDP in 2020 by 40 to 45 per cent, compared with 2005 levels.
China is also committed to increasing the share of non-fossil fuels in primary energy consumption to around 15 per cent to have 40 million more hectares of forest by 2020.
Despite the Chinese government's pledge to rely more on renewable energy sources, Wang Xianzheng, President of the China National Coal Association, recently projected that the annual coal consumption will reach 3.8 billion tonnes by 2015, an increase of 800 million tonnes compared to 2009.