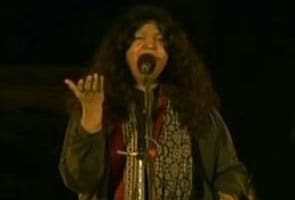 Lahore:
Renowned Sufi singer Abida Parveen underwent emergency heart surgery today after being hospitalised in this eastern Pakistani city, a doctor said.
Parveen, who was born at Larkana in southern Sindh province in 1954, was admitted to the Doctors Hospital last evening after complaining of chest pains.
"It turned out she had suffered a myocardial infarction or heart attack. We performed an angioplasty on her artery to remove a block and installed a stent," Muhammad Sarwar, chief executive of Doctors Hospital, told PTI.
"She is out of danger and will have to remain in hospital for at least five days," said Sarwar.
The singer has millions of fans in Pakistan and India, which she often visits for performances.
Parveen began her career with Radio Pakistan and gained new fans following her appearance in Coke Studio, a television music programme that showcases collaborations between classical and rock artists.