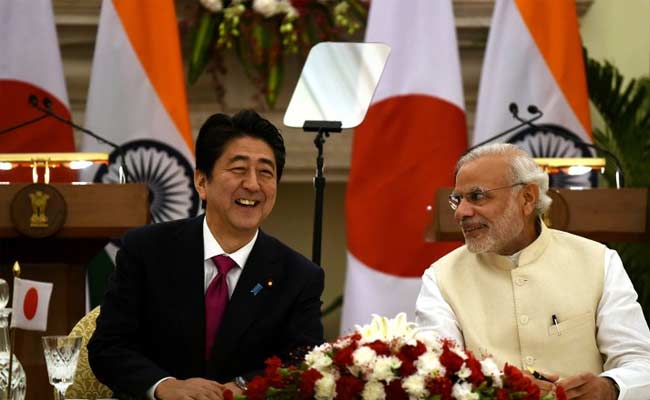 Highlights
Japan wants to edge out China in high-speed rail contracts with India
Japan is helping India construct the Mumbai-Ahmedabad bullet train line
Japan wants to be front-runner if India implements 5 other planned lines
In the strategic rivalry between Japan and China, high-speed rail contracts are one of the best ways to project power. And no Asian country offers more opportunities than India.
Prime Minister Narendra Modi meets counterpart Shinzo Abe in Tokyo on Friday, almost a year after the Indian leader picked Japan as a partner for the nation's first line -- a 980-billion-rupee ($15 billion) rail linking Mumbai and Ahmedabad, roughly the distance from Paris to London. Abe hopes that will make Japan the front-runner if India implements five other planned lines.
"The 'Rail Wars' between China and Japan are a battle for influence in the region that is way more important than just sales and profits," said Jeff Kingston, director of Asian studies at Temple University's Japan campus. "Modi would prefer to play one off the other and see what he can get for India, but geostrategically his government is leaning towards the U.S. and Japan."
The competition between Asia's biggest economies for high-speed rail contracts has been intense. China beat out Japan for a line in Indonesia last year, and the two are set to face off again over a proposed Singapore-Kuala Lumpur link. A Chinese proposal to build one in Thailand fell through this year, while a Japanese-backed plan for Vietnam was rejected by the country's national assembly. Taiwan's Japan-sponsored line has proved to be a financial flop and had to be bailed out by the government last year.
Nuclear Cooperation
Since taking office in May 2014, Modi has boosted defense and energy ties with the U.S. and allies like Japan, including getting close to signing a long-awaited deal on nuclear power cooperation. At the same time, tensions have increased with China, in part because of its support for Pakistan, India's main adversary.
Indian Railways carries 23 million people daily on congested and aging tracks with roots dating back to British colonial rule. Sometimes, trains slow to a walking pace. Modi plans to spend 8.5 trillion rupees through 2020 on new tracks, including bullet trains and modern stations, as he looks to spur a manufacturing boom.
The project Japan is backing will see the financial capital Mumbai linked by a 508-kilometer (316-mile) high-speed track to the economic hub of Ahmedabad, the largest city in Modi's home state of Gujarat. Japan has agreed to provide loans to cover up to 81 percent of the cost of one of India's biggest infrastructure endeavors.
Modi's meeting with Abe in Tokyo will be the eighth between the two leaders since he took office. In those talks, Abe has persistently been a key salesman for Japan's signature Shinkansen technology as he looks to triple infrastructure exports to 30 trillion yen ($287 billion) by 2020.
More Rails
While Japan is happy to divvy up the huge market for urban transit in increasingly traffic-choked cities across Asia, Abe wants to take the lead in high-speed rail, according to Hiroto Izumi, an adviser to the prime minister who has been negotiating the rail deal with India. He said it's important to get a foothold in Asia's second-most populous country to outpace China, Japan's primary competitor.
"If Japan gets to work on the first plan, of course we have expectations" to win India's other high-speed rail projects, Izumi said in an interview at the prime minister's residence. "With urban railways, you can have various different plans mixed up together, but with high-speed rail, I don't think you would have several different systems in one country."
Asian Rivals
China, which boasts the world's largest high-speed rail network, supports main manufacturer CRRC Corp. through financing from state-run banks and an ecosystem of railway construction firms. The nation has the ability to build train lines in areas with extreme weather and challenging geographical conditions, said Chen Suming, an analyst at Shanghai Chongyang Investment Management Co.
"CRRC is poised to win train orders if purely judged by technology, pricing and quality," Chen said. "But there are political factors at play in overseas market which will complicate its chances of winning orders outside China."
Japan's sales pitch revolves around quality: its network boasts a record of zero fatal accidents in more than half-century of history. Izumi said Japan's relatively high initial costs can be offset by lower repair expenses over a lifespan of decades. The nation's main manufacturers are Hitachi Ltd. and Kawasaki Heavy Industries Ltd., while Mitsubishi Electric Corp. makes electric parts for bullet trains.
Modi is set to take a Shinkansen trip on Saturday to Kobe, where the Indian leader will visit a Kawasaki Heavy rolling stock factory.
Where Next?
Izumi traveled to India last month for a third round of talks on the project, focusing on technology transfer ahead of this month's visit to Japan by Modi, who is looking to ensure a chunk of the funds go to local contractors Larsen & Toubro Ltd., Gammon India Ltd. and GMR Infrastructure Ltd.
"When the start of construction on Mumbai-Ahmadebad is in sight, the question will arise about where is next," Izumi said. "That's a problem that has to be considered from a political perspective."
Japan has already built up a positive reputation in India with construction of a subway system in Delhi, a success that Tokyo has touted in advertisements playing on CNN and BBC.
In India, safety and durability are more important than equalizing ties between Japan and China, according to Gaurang Shah, vice president at Geojit BNP Paribas Financial Services Ltd. in Mumbai, which offers investment advisory services to more than 840,000 clients in India and the Middle-East.
"Striking a balance is not necessary," he said. "You should give it to the country which has credibility, technology and a past track record that is proven."
© 2016 Bloomberg L.P.
(Except for the headline, this story has not been edited by NDTV staff and is published from a syndicated feed.)