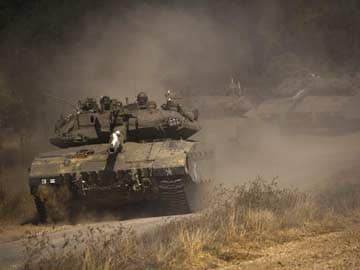 Israeli leaders have stressed two points in selling their Gaza Strip ground invasion internationally and at home: that they embraced all cease-fire proposals and that troops are targeting tunnels Palestinian militants use to infiltrate their territory.
Now, with the lopsided casualty count mounting on both sides - more than 550 Gazans, 25 Israeli soldiers and two Israeli civilians - world leaders are demanding an immediate halt to the hostilities. But the operation has uncovered more tunnels than expected, officials said, and there were two more deadly incursions Monday, making many Israelis say they were reluctant to leave a job half-finished.
That has Israeli officials struggling with a more distilled version of the dilemma it has faced in repeated rounds against Hamas, the Islamist movement that dominates Gaza. If it stops now, it faces the prospect of a newly embittered enemy retaining the capacity to attack. But if it stays the course, it is liable to kill many more civilians and face international condemnation.
"Israel must not agree to any proposal for a cease-fire until the tunnels are eliminated," Gilad Erdan, the right-wing minister of communications, said during a hospital visit to wounded soldiers.
But Tzipi Livni, the centrist justice minister, told reporters that demilitarizing Gaza could be tackled after an agreement, and that "to cease the fire, stop the fire, this is the main goal right now."
As Secretary of State John Kerry and U.N. Secretary-General Ban Ki-moon landed in Cairo on Monday night to search for a cease-fire, analysts set low expectations. The Hamas-Israel feud is in many ways trickier and outside the core Israeli-Palestinian conflict. Israelis feel they withdrew from Gaza only to allow it to become a launching pad for rockets, and Hamas refuses to acknowledge Israel's right to exist.
For each, eradicating the other is the goal - not a two-state solution.
This is the third bloody battle between Israel and Hamas in six years, and both previous cease-fire agreements simply restored quiet without touching topics central to the broader conflict, like the borders of a future Palestinian state or the fate of Jerusalem and refugees.
"With Hamas there, there is no other option but 'mowing the grass.' There is no option for a political solution," said Efraim Inbar, director of the Begin-Sadat Center for Strategic Studies at Bar Ilan University, using an Israeli euphemism for periodic military operations to temporarily roll back Hamas' arsenal.
"If anybody believes in peace negotiations, two-state solution, Gaza is clear proof that we are far away," Inbar added. "The narrower the focus is, the more chances there are for reaching a cease-fire - if you bring in additional issues it makes it much more complicated."
Israelis have increasingly floated the idea of an international arrangement modeled on the successful effort to remove chemical weapons from Syria. In this case, it would involve having international observers help to identify and in eliminate tunnels and the rest of Gaza's arsenal, but many experts say they find it hard to imagine Hamas would consider such a condition for a cease-fire.
Ismail Haniya, until recently the Hamas prime minister, said in a speech Monday that fighting would continue until the movement's demands were met, including the release of prisoners freed in a 2011 exchange for an abducted Israeli soldier and who were recently rearrested - something most experts find it hard to imagine Israel would consider.
"We'll never go back to the period before the aggression. We'll never go back to the slow death," Haniya said in a televised address. "Gaza will be the graveyard for the invaders, as it always was in history."
Israel seized Gaza from Egypt in the 1967 war but withdrew all its settlers and soldiers in 2005 in an evacuation that still roils the society. Right-wingers use the last decade of intermittent fire from Gaza - it continued Monday, with the military's count of rockets launched since the start of the operation topping 2,000 - as a prime argument against any further withdrawal from occupied territory.
Hamas has ruled there since its bloody rout of the Palestinian Authority in 2007, and Israel bars its citizens from entry, making the tiny coastal enclave crowded with 1.7 million people loom as a frightening enemy in Israeli imagination.
A senior Israeli military official said Sunday that the current operation has already wrought more damage on Hamas than Operation Cast Lead in 2008 and 2009, and the Palestinian death is more than triple that of 2012's Pillar of Defense.
Monday morning, the Abu Jameh family pulled 26 bodies, 19 of them belonging to children, from the rubble of their home near the southern Gaza town of Khan Younis, the largest toll from a single strike since the battle began July 8. Four people were killed at Al Aqsa Martyrs Hospital, the main one serving the center of the crowded coastal enclave. An airstrike Monday night destroyed the top five floors of an apartment building called Al-Salam - the Peace - in central Gaza City, an area that had been seen as a safe haven, killing 11.
Eyewitnesses said Israeli forces also fatally shot Mahmoud Hatem al Shawmreh, 29, in one of several clashes Monday night with Palestinian protesters in the West Bank. Seven Israeli soldiers died in combat Monday, making the total over four days 2 1/2 times the number killed in the three-week Cast Lead. Four were killed inside Israeli territory, along with 10 Gaza gunmen who penetrated the border through tunnels, according to a military statement, at least the fifth such incursion reported by the military since Thursday.
Micha Ben-Hillel said he heard heavy gunfire outside his home on kibbutz Nir Am outside Gaza's northeast corner all morning, but was shocked to learn around 8 a.m. that militants had emerged from a tunnel perhaps 500 yards from the community's homes.
"When our kids were younger we used to have picnics there," said Ben-Hillel, 68, a college English teacher.
Moshe Ya'alon, Israel's defense minister, has said the forces might be able to destroy all the tunnels into Israeli territory within a few days - which may be as long as it takes to push through a cease-fire. Momentum was gathering behind an Egyptian initiative first presented a week ago, but Hamas does not trust the new government in Cairo, which defines it as an enemy.
Ban of the United Nations suggested in Cairo on Monday night that a humanitarian pause might be the best path to a more durable cease-fire.
"The violence must stop, it must stop now," Ban said at a news conference with Egypt's foreign minister. Afterward, "we cannot claim victory by simply returning matters to where they stood before the last terrible bloodshed," he added.
Unlike in previous Gaza-Israel negotiations, President Mahmoud Abbas of the Palestinian Authority is also trying to forge a role, but statements from his camp have been all over the map. A Palestinian spokesman in Geneva last week called Hamas rocket-firing a "a crime against humanity" - the same words Abbas used Sunday to characterize Israel's killing of some 67 Palestinians in the east Gaza City neighborhood Shejaiya.
That, along with his backing of the Egyptian proposal and condemnation of last month's kidnapping and killing of three Israeli teenagers, has eroded Abbas' support in the West Bank.
"Ever since the beginning of the attack in Gaza he has become for a large number of Palestinians a persona non grata, somebody that is not relevant," Hamed Qawasmeh, a Palestinian activist in the West Bank city of Hebron, said of Abbas. "As a Palestinian street, now everybody is just talking about the resistance - Hamas, Hamas."
But Shlomo Brom, director of the program on Israeli-Palestinian relations at Tel Aviv University's Institute for National Security Studies, said that Abbas' role - based on the pact his Palestine Liberation Organization signed with Hamas in April - is the most promising path to lasting change in Gaza.
"Because of the change in the power relationship between these different actors in the Middle East, it is possible to create a more effective process of limiting Hamas and other armed groups' buildup in the Gaza Strip," said Brom, noting that the Arab League and the United States had joined Abbas in backing Egypt's initial proposal. "But the fact of the matter is that Israel has decided that its strategy is not a strategy of resolution of the conflict, but it is a strategy of managing the conflict."
© 2014, The New York Times News Service