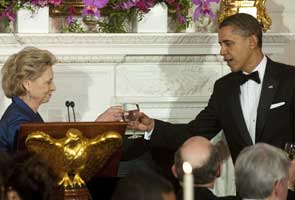 Washington:
Guess what the guests savoured at the weekend annual White House Super Bowl party? A special beer brewed from honey by the in-house chefs.
The beer, which the chefs called the Honey Ale, was brewed from a pound of honey collected from a beehive on the south lawn of the White House.
The Obamas served the alcoholic beverage during their annual Super Bowl party.
President Barack Obama and First Lady Michelle along with their guests sampled the special suds for the first time. The label on the bottle read "Brewed With White House Honey".
The First Lady's office confirmed that White House chefs have made one batch of beer using about a pound of honey from the First Lady's honey hive, ABC News reported.
The batch was made for nearly 200 Super Bowl guests, including members of Congress and celebrities like J-Lo.