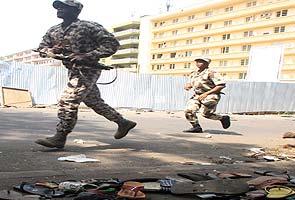 Abidjan:
The Ivory Coast on Wednesday began three days of national mourning after a stampede among crowds gathered for celebratory New Year's Eve fireworks in Abidjan left at least 60 dead and dozens injured.
An AFP journalist saw many injured children, while images broadcast by RTI television showed bodies stretched lifeless on the ground outside the city's main stadium.
Piles of abandoned shoes and clothing could also be seen at the stadium, where soldiers and police were deployed, along with UN peacekeepers.
"This is a real tragedy on this New Year's Day," President Alassane Ouattara said at the scene.
"We are all in shock," he added, announcing that three days of national mourning would be held starting on Wednesday.
The government said 60 people had died, with an average age of 18. Earlier, the head of military rescue workers, Lieutenant Colonel Issa Sako, told journalists that 61 had died.
"Forty-nine wounded were evacuated" by rescue workers, Sako said, adding that other injured victims had gone to hospital on their own. Another rescue official said at least 200 people had been wounded in all.
Sako said the flow of people at the stadium had caused a "very large crush" and that "in the crush, people were walked over and suffocated by the crowd".
Officials said around 50,000 people had gathered for the fireworks.
Witnesses said the stampede had broken out after the fireworks ended, though the cause remains unclear. It erupted near the stadium's main entrance, where security had set up tree trunks as crowd control barriers.
According to a police source, the crush occurred when two streams of spectators going in opposite directions crossed paths.
A security source added that rescue services "took some time to arrive".
Interior Minister Hamed Bakayoko said the "exact circumstances" of the tragedy are "under investigation by the security services".
Visibly shaken children were among the roughly 40 wounded taken to a hospital in the wealthy neighbourhood of Cocody, in the north of the economic capital.
A mother named Zeinab who had taken two of her children to the stadium found one of them in the hospital, a small boy who lay on a bed in a groggy state.
Zeinab said she "hurt all over" and showed a journalist the scratches on her body.
"I don't know what happened but I found myself lying on the ground with people stepping on me, pulling my hair or tearing my clothes," she said.
She said she had been knocked unconscious and that a young man had pulled her from the crowd.
The New Year's fireworks, the city's second in two years, had been touted as a symbol of national renewal under Ouattara after a violent post-election crisis that tore the country apart from December 2010 to April 2011, killing some 3,000 people.
The unrest began after Ouattara's long-time rival and former iron-fisted ruler Laurent Gbagbo refused to step down.
He was later arrested by forces loyal to Ouattara, with UN and French military backing, and transferred to the International Criminal Court in The Hague, where he is accused of crimes against humanity.
Though the troubled west African nation -- the world's top cocoa producer -- is still recovering from the political and military crisis, Ouattara had struck a note of optimism in a New Year's message on Monday evening.
He said the former French colony had "possibilities like seldom before" ahead of it, promising it would soon reap the rewards of economic growth and development.