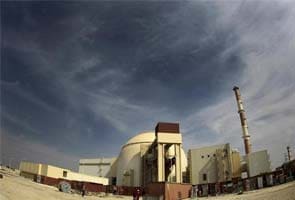 Tehran:
A powerful earthquake struck near Iran's Gulf port city of Bushehr on Tuesday, killing at least 30 people and injuring 800 but leaving Iran's only nuclear power plant intact, officials said.
Shocks from the quake were felt across the Gulf in Bahrain, Kuwait, Qatar and the United Arab Emirates, provoking panic and the brief evacuation of some office towers, residents and media said.
Bushehr provincial Governor Fereydoon Hasanvand told state television at least 30 people were killed while more than 800 people were hurt and and receiving medical attention.
There were no immediate details on where the casualties occurred, but the head of Iran's Red Crescent rescue corps, Mahmoud Mozafar, said initial reports indicated that at least one village near Khormoj had been razed.
He said major damage was probable considering the rural nature of the stricken area, home to some 12,000 inhabitants.
Media reports said search and rescue teams accompanied by security forces were dispatched to the area, to which telephone connection and electricity had been cut.
Tents, blankets and food have also been sent to the area, the Fars news agency reported.
Meanwhile, Hasanvand told state television "no damage at all has been caused" to the nuclear power plant in Bushehr, nearly 90 kilometers (55 miles) northwest of quake's epicenter.
The facility's chief engineer, Mahmoud Jafari, told Arabic-language Al-Alam television that "no operational or security protocols were breached" by the quake.
The 6.1 magnitude quake hit at 4:22 pm (1152 GMT) with a depth of 12 kilometres (7.5 miles), in the area of Kaki, according to the Iranian Seismological Centre which has registered more than a dozen aftershocks, the strongest at 5.3 magnitude.
The US Geological Survey, which monitors quakes worldwide, ranked the quake at a more powerful 6.3 magnitude.
In Dubai, hundreds of kilometres down the Gulf from Bushehr and home to the world's tallest building, Burj Khalifa, local media reported that several high-rise buildings were briefly evacuated.
"We felt a mild earthquake in Dubai a while ago. Chandeliers were shaking," Tweeted one resident.
There were no reports that Burj Khalifa, which stands at 828 metres (2,717 feet) high, had been evacuated.
Residents also said there were some evacuations in Bahrain.
In nearby Abu Dhabi, one resident said: "I was watching television when suddenly the whole building started shaking. It was very scary."
Iran sits astride several major fault lines and is prone to frequent earthquakes, some of which have been devastating.
A double earthquake, one measuring 6.2 and the other 6.0, struck northwest Iran in August last year, killing more than 300 people and injuring 3,000.
In December 2010, a big quake struck the southern city of Bam. It killed 31,000 people - about a quarter of the population - and destroyed the city's ancient mud-built citadel.
The nuclear power plant in Bushehr, a long-delayed project finished by Russia, is yet to become fully operational.
On November 16, an International Atomic Energy Agency report said Iran, the only country with an operating nuclear reactor that does not adhere to the post-Chernobyl Convention on Nuclear Safety, has unloaded fuel at the Bushehr plant, shutting down the country's only functioning nuclear power station.
Iran's envoy to the IAEA, Ali Asghar Soltanieh, said at the time the move was a "normal technical procedure" but Western diplomats said it raised fresh questions about safety there.
Iran is at loggerheads with world powers over its development of a controversial nuclear programme, which the Western and Israel suspect is aimed at military objectives despite repeated denials by Tehran.
Tuesday's quake coincided with Iran unveiling a uranium production facility and two extraction mines in centre of the country.