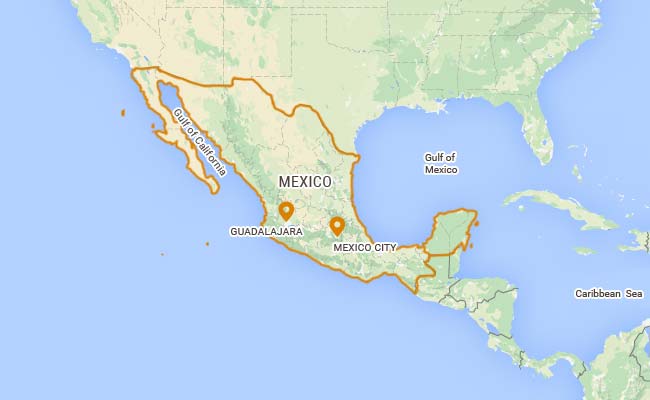 Acapulco, Mexico:
Three bodies were found with their facial skin peeled off Thursday near a southern Mexico city where at least 10 people were allegedly kidnapped by an armed group last week.
The bodies were covered in blankets when they were discovered on a path near the cemetery of Nejapa, a village part of the Chilapa municipality, said Guerrero state chief prosecutor Miguel Angel Godinez Munoz.
It was unclear how long ago they were killed. Skinning faces of victims is a gruesome practice among Mexico's violent drug gangs.
A group of men wielding rifles, sticks and machetes entered Chilapa on May 9, describing themselves as one of the region's legal self-defense "community police" forces on a mission against a drug gang.
They disarmed the municipal police but returned their weapons later and left on May 14 after reaching an agreement with the state government that included the resignation of the local police chief.
Chilapa is at the center of a turf war between two gangs known as Los Ardillos and Los Rojos. Authorities are investigating whether the self-styled vigilantes were infiltrated by a gang.
The presence of the armed group sowed panic in the town and this week residents claimed that several people were taken away by the self-styled vigilantes. Residents suspect the group was working for Los Ardillos.
Federal police chief Enrique Galindo, who met with relatives of the missing on Wednesday, said that 10 people were kidnapped between May 9-14 "in different moments, places and by different people."
Another six people were abducted in previous months, he said.
Galindo launched a police operation to boost security in the city of 120,000 while federal prosecutors were dispatched to investigate the kidnappings.
The state prosecutor's office had previously said that 11 people were reported kidnapped and another four went missing between May 9-14.
Earlier this month, a candidate for mayor of Chilapa from the ruling Institutional Revolutionary Party (PRI) was killed ahead of the June 7 elections.
In November, 11 decapitated bodies were found near the town. Two months later in January, 10 bodies and 11 heads were found in six clandestine graves in a village part of the Chilapa municipality.
Chilapa is in the same state as Iguala, a city where prosecutors say local police abducted 43 college students in September and delivered them to the Guerreros Unidos drug gang, which slaughtered them.