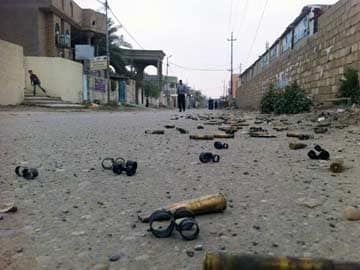 Baghdad:
Attacks across Baghdad, including car bombs at an up-scale shopping mall and near a juvenile detention centre, killed 21 people on Saturday as rising violence fuels fears of all-out sectarian war.
The bombings and a deadly, weeks-long standoff in the western province of Anbar, part of a nationwide surge in violence that has already killed more than 600 this month, come just months ahead of parliamentary elections.
Diplomats including UN chief Ban Ki-moon have urged authorities to pursue political reconciliation with disaffected Sunni Arabs to resolve the unrest, but the US has said it will provide training for Iraqi forces in a third country and ship small arms to the country's security forces.
Prime Minister Nuri al-Maliki has taken a hard line and ruled out dialogue with militants.
Iraqi officials have instead trumpeted wide-ranging security operations against militants, including in the desert region of Anbar, which borders Syria, but they appear to have done little to abate daily bloodshed.
In Baghdad on Saturday evening, seven attacks -- including six car bombs -- killed at least 21 people and wounded more than 60 others, security and medical officials said.
One of the blasts went off near the glitzy new Mansur Mall, one of the capital's most up-scale shopping centres, where families and young people often meet in the evenings to go to the cinema or eat at Western-style restaurants.
At least five people were killed and 12 more were wounded.
The area was deserted after the attack as shoppers rushed out of the mall, while security forces imposed restrictions on movement in the area, barring cars from entering or leaving the district, AFP journalists at the scene said.
Another car bomb in the Taubchi neighbourhood detonated near a juvenile detention centre, and conflicting reports of a prison break spurred authorities to effectively shut the area down, an AFP journalist said.
The blast killed five people and left 13 others wounded, officials said.
An interior ministry official said 23 detainees managed to escape in the chaotic aftermath of the attack, but Iraqiya state TV said security forces managed to prevent the attempted jailbreak.
Bombs also went off near a bus station in Nahda, a bridge in Utaifiyah, while attacks struck the neighbourhoods of Amriyah, Jamiyah and Adel, killing 11 people in all.
Trend of evening attacks
Saturday's unrest was the latest in a long-running trend of attacks hitting the capital in the evening, when Baghdad's residents are congregate in cafes, markets, restaurants and shops.
Such onslaughts had previously struck during morning rush hour.
No group immediately claimed the attacks, but Sunni militants linked to Al-Qaeda often carry out waves of coordinated bombings in the capital against civilian targets.
Violence also struck north of Baghdad, in the restive multi-confessional cities of Kirkuk and Baquba.
Twin blasts at a Kirkuk market killed three people, while gunmen badly wounded a journalist after stopping his car at an intersection in Baquba. The journalist, who worked for Sharqiya TV, managed to escape his car but was shot three times and is currently in hospital.
The bloodshed comes with security forces locked in a prolonged deadly standoff with militants including those affiliated to the Al-Qaeda-linked Islamic State of Iraq and the Levant and anti-government tribesmen in Anbar.
US Vice President Joe Biden discussed Washington's support for Iraq's fight against ISIL on the phone with Maliki on Saturday.
"The two leaders agreed on the importance of the Iraqi government's continued outreach to local and tribal leaders in Anbar province," the White House said.
A large swathe of Ramadi and all of Fallujah, both former insurgent bastions in Anbar, fell from government control late last month.
It was the first time anti-government fighters have exercised such open control in major cities since the height of the insurgency that followed the US-led invasion of 2003.
Fighting originally erupted in the Ramadi area on December 30, when security forces cleared a year-old Sunni Arab protest camp.
It spread to Fallujah, and militants moved in and seized the city and parts of Ramadi after security forces withdrew.