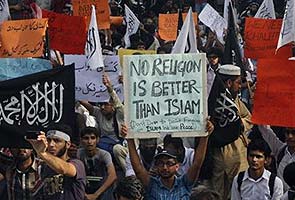 Islamabad/Karachi:
Nearly 20 people were killed and hundreds injured today when thousands of angry demonstrators during government-sanctioned protests over an anti-Islam film turned violent in several cities across Pakistan on a day being observed as 'Love the Prophet Day'.
The worst affected was Pakistan's financial hub Karachi, where 14 people were killed including two policemen who were shot dead. Around 110 others injured when anti-film rallies turned violent and anarchy prevailed for many hours in some parts of the coastal city.
Officials said nearly 200 people were injured in Islamabad, Karachi and Peshawar before the protests tapered off at nightfall.
Rampaging mobs destroyed private and government property worth crores of rupees across the country. Protestors vandalised and torched three cinema halls and the chamber of commerce in Peshawar in the northwest.
Five persons, including an employee of a TV news channel, were killed in violence in Peshawar city, officials said.
ARY News said its employee Mohammad Amir died after being hit by a bullet in police firing. Others were killed in police firing or clashes between protestors and police.
Footage on television showed several armed protestors firing during demonstrations.
In Karachi, mobs torched three cinema halls, three government offices, three banks and several police vans near the Chief Minister's residence.
At many places, crowds of protestors looted shops and private buildings. A toll plaza and several vehicles were burnt by protestors on the outskirts of Rawalpindi.