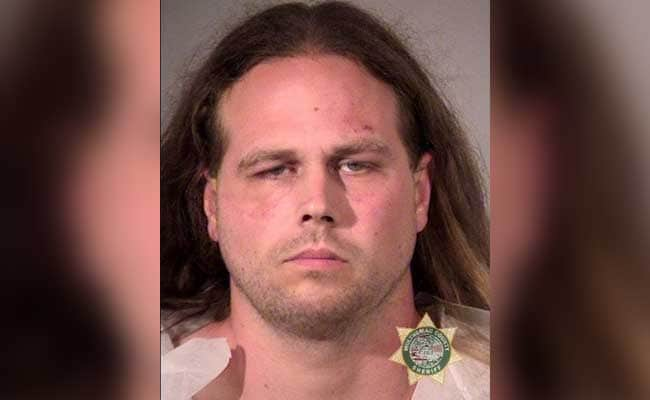 Two men were stabbed to death Friday on a light-rail train in Portland, Oregon, after they tried to intervene when another passenger began "ranting and raving" and shouting anti-Muslim hate speech at two young women, police said.
According to witnesses, a white male passenger riding an eastbound MAX train early Friday afternoon began yelling what "would best be characterized as hate speech toward a variety of ethnicities and religions," police said. Some of the slurs were directed at two female passengers, one of whom was wearing a hijab, police said.
"This suspect was on the train and he was yelling and ranting and raving a lot of different things, including what we characterized at hate speech or biased language," Portland police spokesman Pete Simpson said at a news conference Friday evening.
At least two men tried to calm the ranting passenger down, but "they were attacked viciously by the suspect" when they did, Simpson said.
"It appears preliminarily that the victims -- at least a couple of them -- were trying to intervene in his behavior, de-escalate him and protect some other people on the train when [the suspect] viciously attacked them," Simpson said.
About 4:30 p.m. Friday, police responded to calls of a disturbance at the Hollywood Transit Station in east Portland. There, they found three stabbing victims, all adult men. Despite attempted lifesaving measures, one died at the scene, and another was pronounced dead at a hospital, police said.
The third victim is being treated for non-life-threatening injuries and is expected to survive, Simpson said Friday.
Based on witnesses' statements, officers on Friday were able to locate and arrest the suspect, who had fled the train on foot.
Police identified the suspect early Saturday morning as Jeremy Joseph Christian, 35, of north Portland. Christian is being held without bail on two counts of aggravated murder, one count of attempted murder, two counts of intimidation in the second degree and one count of possession of a restricted weapon as a felon.
The deceased victims' identities have not yet been released, pending an autopsy by the Oregon State Medical Examiner in Portland late Saturday morning, police said.
The stabbing attack shocked the city.
"It's horrific. There's no other word to describe what happened today," Simpson said Friday. "It is simply horrible."
The attack shut down the Hollywood Transit Station and Portland MAX trains in both directions for several hours Friday evening.
Simpson noted then that several passengers, including the two young women thought to be the target of the man's anti-Muslim slurs, had left the train after the stabbings. He urged any witnesses to come forward to give statements to police. Simpson added that it did not appear that the suspect or the victims had any relationship with one another.
"We don't know if (the suspect) has mental-health issues or was under the influence of drugs or alcohol, or all of the above," Simpson said. "With this incident, we're obviously in early stages of the investigation."
The attacks occurred just as Ramadan, the Muslim holy month, was set to commence at sunset Friday. Simpson said that Portland police had already contacted local Muslim organizations, mosques and imams about extra patrols during Ramadan and that those extra patrols would continue.
"Our thoughts are with the Muslim community," Simpson said Friday. "As something like this happens, this only instills fear in that community."
The attack prompted a slew of outraged and shocked responses Friday from Portland residents and lawmakers, as well as national organizations.
Sen. Jeff Merkley, D-Oregon, tweeted: "Terrible tragedy on Portland's Max Train. Champions of justice risked and lost their lives. Hate is evil."
Portland City Commissioner Chloe Eudaly called the incident "especially sad and disturbing" in a statement on behalf of Portland Mayor Ted Wheeler, who was traveling Friday night, and the City Council, according to KGW News.
"People lost their lives or were injured because they stood up to hate," Eudaly said in the statement. "We need to offer our heartfelt support to the women and others who were targeted. The courage of the people who stood up for them is a reminder that we as a city need to stand together to denounce the hate."
Multnomah County officials announced that its mental-health call center would be available 24 hours a day for those affected by the MAX train stabbing.
"We are very sad. Ramadan started just a couple hours ago," Imtiaz Khan, president of the Islamic Center of Portland, told Oregon Public Broadcasting on Friday night. "We are very sorry for the two men who tried to do the right thing. . . . Of course people from the Muslim community are concerned. And, unfortunately, the easy targets are women because of the headscarf."
(This story has not been edited by NDTV staff and is auto-generated from a syndicated feed.)