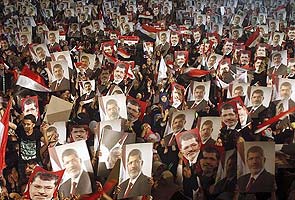 Alexandria, Egypt:
At least 14 people were killed when opponents and supporters of Egypt's deposed president, Mohamed Morsi, clashed after the army announced his removal on Wednesday, state media and officials said.
Eight of those reported dead were in the northern city of Marsa Matrouh. Al-Anani Hamouda, a senior provincial security official, said two members of security forces were among those killed in the clashes.
Three people were killed and at least 50 wounded in the Mediterranean city of Alexandria, state news agency MENA reported. Gunfire broke out as rocks and bricks flew during the fighting, witnesses said.
One of the city's dead was a woman stabbed in the stomach, MENA said. The other two were men hit by birdshot.
"We are dealing with the situation. ... We have called for security reinforcements in the area," said senior police officer Sherif Abdelhamid.
Three people were also killed in the southern Egyptian city of Minya, including two police, MENA said. It said 14 people were wounded.
Dozens more were wounded in Fayoum, south of Cairo, where unidentified assailants broke into the local offices of the Freedom and Justice Party, the Brotherhood's political wing, MENA said.
The attackers looted the headquarters and set them on fire, it said.
© Thomson Reuters 2013