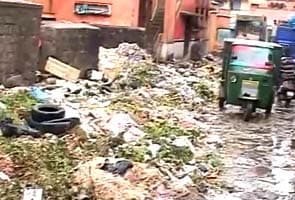 Bangalore:
The Karnataka High Court has warned Bangalore's civic body, the Bruhat Bengaluru Mahanagara Palike (BBMP), that it would be superseded if it finds that politics is being played while dealing with the garbage issue in the city. This is the second rap from the court in less than three weeks to do the clean-up act.
The government claims that the city will be cleaned up by Sunday. Garbage would be lifted and sent to the new landfill which is a 400 acre farm land near Dodballapur on the outskirts of the city.
The government is, in fact, also looking at foreign help. "One Sri Lankan group has come forward to invest Rs 300 crore. It will be an Israeli technology which is proven for the last 10 years. We have gone to Israel, seen their technology," said the former deputy mayor BP Harish.
But if villagers around the old dumping yard suffered diseases, forcing the civic body to stop dumping, so would those living around the new one. So is finding a landfill the permanent solution?
Bangalore's civic body, the BBMP spends an estimated Rs 480 crore on collecting and transporting garbage from the city to the dump yard every year. Successive governments have been awarding contracts to certain truck operators year after year. Activists suspect that there is a nexus between those in the government and the so called truck operator 'mafia'. Some environmentalists have come up with a new strategy to deal with the rubbish in a less expensive way.
Here is the step by step suggestion for a permanent solution by Bangalore's Green Activists:
First segregate the garbage at source
The BBMP should then make facilitate collection of segregated waste in a scientific manner
More than 60 per cent of the garbage produced in Bangalore is organic or bio-degradable waste
The wet waste can be treated to becoming manure and disposed within the city like in parks and for Bangalore's diminishing number of trees
Which means only 40 per cent of the total waste would need transportation
Expensive contracts can be done away with by instead paying the BBMP workers for treating dry waste
A committee has been appointed to suggest permanent solutions to the issue in two weeks' time.