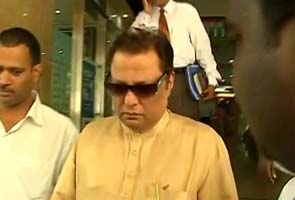 New Delhi:
Hasan Ali Khan sounds straight out of a Bollywood masala script. Humble beginnings, claims of royalty, stud farms, horse racing, lavish parties, black money, Swiss bank accounts, sleuths make up the ingredients of this story.
Khan, 58, is a Pune-based stud farm owner who allegedly has 8 billion dollars stashed in Swiss banks. He has been investigated by the Enforcement Directorate (ED) and the Income Tax (I-T) Department for some years now and his premises were raided in 2007. It was speculated then that the millions of dollars allegedly deposited by him in Swiss banks belonged to politicians and industrialists and that Khan was only a conduit who allegedly facilitated the transfer of the money from India, apparently on a commission basis.
Khan has been declared the country's highest tax defaulter with dues allegedly over Rs 50,000 crore. The government, replying to a query in the Rajya Sabha in August last year, said that the dues, if interest for belated payments was included, exceeded Rs 70,000 crore.
The Enforcement Directorate had sought details of Khan's accounts from Swiss banks in a letter rogatory issued in 2007. But the Swiss banks refused to share information on Hasan Ali Khan with the Indian investigating agencies. They cited a technical point saying not filing tax returns in India was not an offence under Swiss law.
Swiss banking laws stipulate that banks are bound to furnish details of an account to a foreign government only if the offence committed by the account holder is an offence under Swiss law too. In this case, not filing returns is an offence under Indian tax laws but not an offence under the laws of Switzerland. However, tax evasion is an offence in both countries.
Hasan Ali Khan had stated earlier that he is a scrap dealer with an annual income of Rs 30 lakh. But he reportedly throws lavish parties, is passionate about racing horses and owns quite a few and is said to also own a fleet of expensive cars.
Khan's story begins in Hyderabad. Ironically, he is the son of a Hyderabad excise officer. There are many versions about Khan's beginnings, but the story becomes shadowy after he came into big money. He dabbled in various trades in his early life, including trading in antiques and one story says that he claimed he was a descendant of the Hyderabad Nizam's family.
He is said to have entered the world of horse racing in the early 1990s while still in Hyderabad and then soon moved to racing in Mumbai and then Pune and other cities. He is said to have divorced his first wife whom he lived with in Hyderabad and moved to Pune after marrying his present wife, Rheema. The couple was spotted regularly at races, Khan always preferring to keep a low profile there.
A look-out circular is now out to prevent Khan from leaving the country. He shall be interrogated soon.