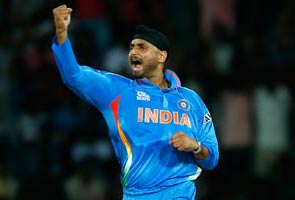 New Delhi:
Harbhajan Singh is back and in style! Playing his first game after more than a year, the off-spinner picked up four wickets to script India's 90-run win over defending champions England in the World Twenty20 group match in Colombo.
Bhajji, as he is fondly called by his family and friends, had last played a Test against England in July 2011. Unable to live up to the reputation of India's best off-spinner due to poor form, an abdominal injury was the last thing Harbhajan needed. Last year, he could take just 13 wickets in five Tests at an average of 43.53. The injury ruled him out of the England tour, which India lost 0-4.
He was in for a shocker when he was not named in the squad for the Australian tour. His exclusion evoked mixed response. Many thought he was given ample opportunities to get his form back. But he found support in cricket fans who believed Australia always bring out the best in him and he can be the difference between the two teams. That belief only gained strength when the Indian team was washed out 0-4 in its successive overseas tour.
India played in Asia Cup, toured Sri Lanka but Harbhajan remained in oblivion. And like he was recalled to the World T20 squad in 2007, Bhajji was back in the team for WT20 2012. He had missed out the first match against Afghanistan. In the second group match, Bhajji was in the playing XI. He struck with the second delivery of his first over and got the wicket of Eoin Morgan. Pleasantly surprising his fans and critics, Bhajji could turn, flight, restrict the run flow and take wickets. In his quota of four overs, Harbhajan gave just 12 runs and picked four wickets.
Harbhajan made his international debut in 1998, and in his 14-year long career, he has 687 wickets (406 in Tests, 259 in ODIS and 22 in T20s). Bhajji had a stupendous runs in 2001 and 2002 when he picked 147 and 140 international wickets respectively. 2003 was the worst year of his career as he could pick just 34 wickets in 23 matches. Ever since, he had an inconsistent runs. He blossomed under the captaincy of Sourav Ganguly, who was an ardent supporter of the spinner.
In 2001, Ganguly unleashed him on the Aussies and he spelled doom for them. He was named man of the series, having taken 32 wickets. Impressed with his bowling prowess, the Aussies named him 'Turbanator'. He has been there nemesis ever since.
Born in a middle class family on July 3, 1980 in Jalandhar, Bhajji was encouraged by his father to become a cricket. But after his sudden demise, Bhajji had to choose between taking care of his family and cricket. Backed by his mother, the off spinner focused on cricket and was rewarded for his hard work and talent. Rewarded his performance in domestic circuit, Bhajji was picked for the series against Australia. He made his debut against them in Bangalore in 1998.
The 32-year old is known to be a feisty cricketer, who also had his share of controversies. Here are some of them:
# Monekygate: During India's tour to Australia in 2007-08, Bhajji had an altercation with Andrew Symonds. The Australian all-rounder filed a complaint against the Indian spinner for racially abusing him. Bhajji was handed a three-match ban. The Indian board threatened to call off the tour. After a hearing, Bhajji was acquitted. But that spoilt the relations between the two players.
# Slapgate: During the first season of the Indian Premier League in 2008, Harbhajan led the Mumbai Indians against Kings XI Punjab in the absence of Sachin Tendulkar. S Sreesanth, who had gone overboard with on-field antics, was slapped by Bhajji after the match got over. Punjab won the match and while the players exchanged handshakes, Bhajji slapped the Kerala pacer. Bhajji was handed ban for the IPL season. He also was stripped of his IPL salary for the season.