When Jayalalithaa's mentor, matinee idol M. G. Ramachandran, died in 1987, there was widespread rioting and disruption. Multiple devotees took their own lives, and his party was riven by an acrimonious battle between his wife Janaki and his protégé Jayalalithaa. When Jayalalithaa passed away, therefore, the state was braced for unrest and there were predictions that the AIADMK would be plunged into chaos. Such fears were not without foundation. Jayalalithaa was an immensely popular politician who had secured her place in people's affections through her popularity as an actress and the adroit use of personalised welfare schemes and programmes that took cheap food, medicines and services to the masses. Furthermore, the volatility and passion of her followers was evident in September 2014 after she was jailed in the disproportionate assets case. At that point, AIADMK cadre set buses alight, stopped traffic and resorted to violence across the state. There was also no obvious replacement as party leader. All power and decision-making authority was centralised in the person of Jayalalithaa or
"Amma"
as she was more commonly known.
In the event, commentators have been surprised by the smooth transfer of power and the dignified and respectful response of both mourners and opposition politicians alike. Within hours of Jayalalithaa's death being announced, her trusted lieutenant O Panneerselvam was anointed as party leader and, despite crowds of distraught supporters queuing to pay their last respects, the violence that was feared did not materialise. Despite this, it is no exaggeration to state that the death of the four-time Chief Minister leaves a vacuum at the heart of her party and in the centre of Tamil politics. All decision-making power and responsibility in the AIADMK were centralised in Jayalalithaa, and she frequently shuffled ministers and parliamentary candidates to keep them on their toes and prevent the emergence of rivals. Panneerselvam, thus, has inherited the leadership less due to his own merits and more because Jayalalithaa trusted him to hold the fort in her absence. His blind loyalty (when asked to stand-in during Jayalalithaa's stint in prison, he was reluctant even to occupy her chair) may endear him to the party faithful, but does not mean that he will be a dynamic or successful leader. Indeed, in his earlier periods as Chief Minister, he was seen as a puppet. What then does the future hold for the AIADMK and for Tamil politics more generally?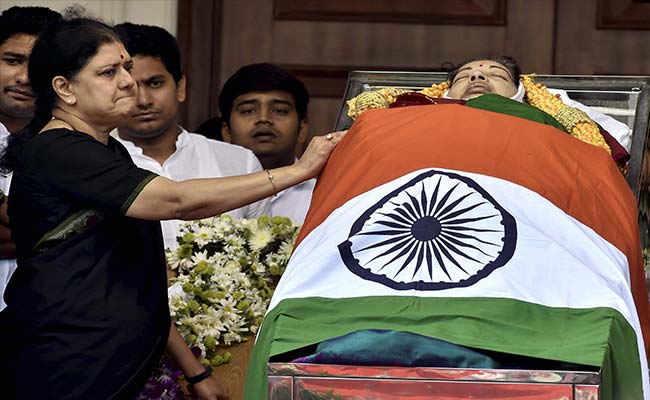 The orderly transition is both welcome and commendable, but already there are signs that Panneerselvam's fragile hold on the reins of power may not endure. Ever the loyalist, he has been quoted by party organ Jaya TV as endorsing calls for Jayalalithaa's controversial friend and confidante Sasikala Natarajan to become party General Secretary. There are two main difficulties with this. The first relates to politics and the second to caste. Politically speaking, there are a number of considerations. Given that Sasikala has never held public office and has no popular mandate, it is highly unlikely that she could assume the position of Chief Minister. During her tumultuous friendship with Jayalalithaa over the past 30 years, however, she has often been portrayed as the power behind the throne. Should she accede to the General Secretary position, it is probable that she would continue to wield influence in such manner. Party posters and banners this week have given prominence to Sasikala and overtly used her nickname
"Chinnamma"
(Mum's younger sister), bolstering reports that she is poised to assume a more central role. Whilst used affectionately now, and deployed to legitimate her position, the reference to
Chinnamma
originated amongst disgruntled members of the party who were unhappy with her influence. Alongside this is the fact that Sasikala was co-accused with Jayalalithaa in the disproportionate assets or corruption case that is still pending in the courts. Finally, she is forever tainted by the grandiose and extravagant wedding that Jayalalithaa organised for her nephew, who was made the Chief Minister's foster son. The opulence on show was one of the central reasons for the AIADMK's disastrous showings in the 1996 elections.
Aside from such political issues, the elevation of Sasikala alongside Panneerselvam is sensitive on caste grounds. Both Jayalalithaa and her main rival, DMK leader Karunanidhi, reached out to Tamils of all castes and creeds in part because they themselves hailed from minority communities. Jayalalithaa gained a reputation for being a patron of the dominant caste Thevar (or Mukkulathor) cluster, but programmatic politics and shrewd political appointments allowed her to transcend caste boundaries. Both Sasikala and Panneerselvam are Thevars, however, and it is hard to see how members of other castes in the party - let alone the public - would welcome such a scenario. The AIADMK at present has a slim majority that it will wish to preserve. Accordingly, few legislators will seek to rock the boat in the short-term, but a Sasikala-Panneerselvam combination is likely to increase the chance of defections and schisms in the medium to longer term. The party would also be reliant on two figures whose primary qualification would be their closeness to
Amma
and who would depend on the party name and a sympathy wave to succeed. The centralisation of the party under Jayalalithaa gave her scope to direct it, but means that there is no obvious replacement.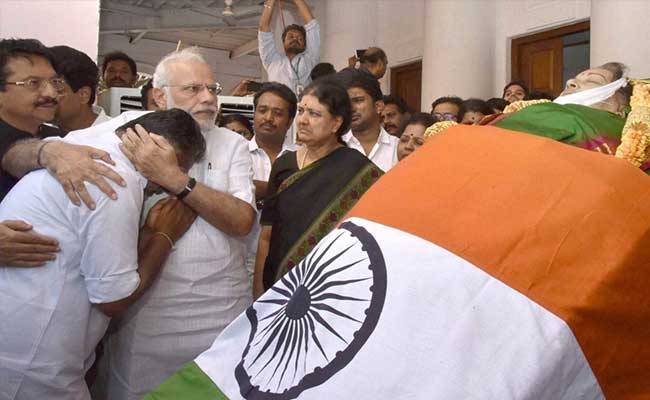 Should the internal politics of the AIADMK prove to be fractious, the DMK will be keen to capitalise. The party was roundly rejected by voters in 2011 who saw it as tainted by corruption (chiefly the 2G telecommunications scam in which DMK ministers were central) and reliance on family rule. It was also torn apart by sibling rivalry between Karunanidhi's sons. In recent years there have been signs of recovery, and the 2016 elections were closer than results suggested. Like the AIADMK, however, they face problems of succession. Whilst MK Stalin, Karunanidhi's third son is the heir apparent, he was not entrusted to be Chief Ministerial candidate this year. Only now, following Jayalalithaa's death and his father's ill-health, are there moves to vest full authority in him. A power-struggle in the AIADMK would be a huge boost for him, and as former mayor of Chennai, he has the experience and credibility to mount a strong challenge should that occur.
Elsewhere, smaller parties in Tamil Nadu have been marginalised by the two Dravidian giants and have - for many years - been reduced to planning ahead for problems in the Dravidian duopoly. Despite this, none of the state-based outfits seem well placed to benefit. Misplaced electoral calculations mean that none have elected representatives in the Legislative Assembly nor Members of Parliament with the standing and publicity to seize the limelight. Parties like the
Vanniyar
-dominated
Pattali Makkal Katchi
or PMK, the Dalit-led
Viduthalai Chiruthaigal
, the Communists, or film-star Vijayakant's DMDK may be better placed to win seats if the popularity, standing and credibility of Jayalalithaa and Karunanidhi fails to translate into votes for their successors, but none look like credible challengers. Likewise, national parties like the Congress and BJP will hope to make inroads in the state at this point, but neither have the grassroots strength nor organisation to mount meaningful campaigns for power. For all the problems of corruption and dynastic politics, parties in Tamil Nadu have delivered key benefits and welfare measures. Jayalalithaa's populism in part reflects her strength of character, but also reflects the mix of welfare and patronage. The bargaining power of national parties will increase as less experienced leaders seek alliances, but the fault-lines of Tamil politics look set to revolve around the Dravidian parties under new leadership.
(Hugo Gorringe is senior lecturer in Sociology at the University of Edinburgh)
Disclaimer: The opinions expressed within this article are the personal opinions of the author. The facts and opinions appearing in the article do not reflect the views of NDTV and NDTV does not assume any responsibility or liability for the same.
Get Breaking news, live coverage, and Latest News from India and around the world on NDTV.com. Catch all the Live TV action on NDTV 24x7 and NDTV India. Like us on Facebook or follow us on Twitter and Instagram for latest news and live news updates.