Narendra Modi and the BJP face a changing chemistry in Gujarat, but make no mistake, the CM-turned-PM campaigns with great style and elan and many people I spoke to after attending his rally in Saurashtra in Southern Gujarat on the weekend said they go away from each Modi event with their faith restored in Modi's leadership. He is an impressive campaigner in Gujarati, more humane and a shade lighter than he comes through in Hindi.
There have been reports of empty chairs at some rallies. But the one I attended was packed. In a rally in Surendranagar town, the PM held the audience captive for 45 minutes, and although Chief Minister Vijay Rupani was seated had spoken just before Modi landed in a chopper, and was then seated on a dais with him, the PM made no mention of the man who actually rules Gujarat.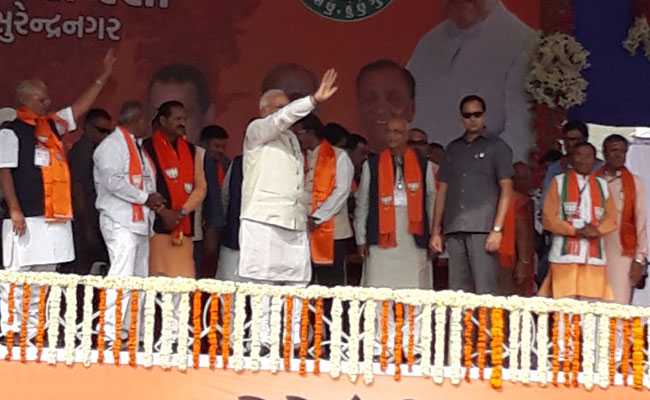 The songs played at the venue before the PM landed, two hours behind schedule, made it clear what this election is about for the BJP. Modi is repeatedly invoked and not the party that rules both the centre and state. The messaging is that Modi is the BJP, Modi is Gujarat and Gujarat is Modi.
Some samples of the lyrics:
Bharat Mata ka sher hai apna Narendrabhai
(Our Narendrabhai is the Lion of Bharat Mata)
Kya Modi-ji ka kamal
(look at the magic of Modi)
Pakistan koh Modi Hindustan banayenge
(Modi will turn Pakistan into Hindustan)
Modi-ji ke naam se Cheen ko paseene aaye
(China breaks into sweat on hearing Modi's name)
As he arrived, Modi was introduced as the
Shahenshah
(supreme leader) of India. On this outing, on the eve of Rahul Gandhi filing his nomination for Congress president, Modi began with a flourish: word play about
shehzadas
(princes). Then, "Shehzad Poonawalla, an ordinary Congress worker has challenged Rahul but the party that shouts 'tolerance, tolerance, tolerance', had none for one worker who raised his voice against the dynasty. The Congress has a fixed match as it did when Sardar Patel was denied the presidency and Nehru made Congress president."
He evoked some laughs when he suggested that the people of Gujarat dismiss the Congress by sending them to a resort in Bangalore (as had happened before Ahmed Patel's Rajya Sabha election earlier this year)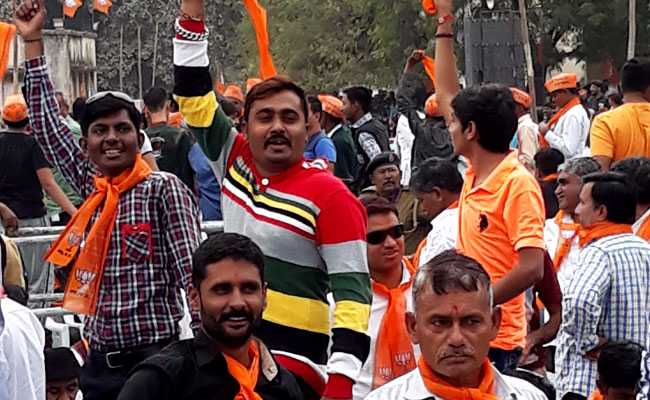 Sharp barbs delivered, the speech then focuses on the region and the water problems it faced before the Narmada waters rescued it. The increased production of cotton and groundnut was highlighted, but no mention was made of the low MSP (against promises made by Modi the CM), or about GST and demonetization. As someone who has observed Modi's speeches over two decades, he has acquired an air of dignity and in his first electoral outing as PM in Gujarat, he is mellower than his campaigns of 2012 and 2007 (not to mention 2002, which was a vicious campaign).
Today's Modi speaks of unity and he warned against caste divisions that he said were being stoked, particularly to divide Patels and Kshatriyas. He made an impassioned plea for holding the social fabric together and said, notably, that the age when people were worried that a festival would lead to a Hindu-Muslim fight is gone. Gujarat, he said, has left behind that sort of baggage through hard work and a commitment to the path of peace and unity.
Where Modi is hamstrung is that he can no longer evoke Gujarati sub-nationalism against the centre that he did effectively in his earlier CM campaigns. Then, he would rail against the "Delhi Sultanate", but now that he is both Sultan and
Shahenshah
, that potent weapon for mass mobilization is rendered useless.
Modi's 2017 campaign is also happening in the backdrop of a new show in town, that of Hardik Patel, another son of the soil kicking up a storm against the system and getting a huge response. But Hardik at this point is too young to contest an election; he is a successful disrupter, but whether an individual who speaks for one caste alone will survive the long haul of Indian politics remains unknown.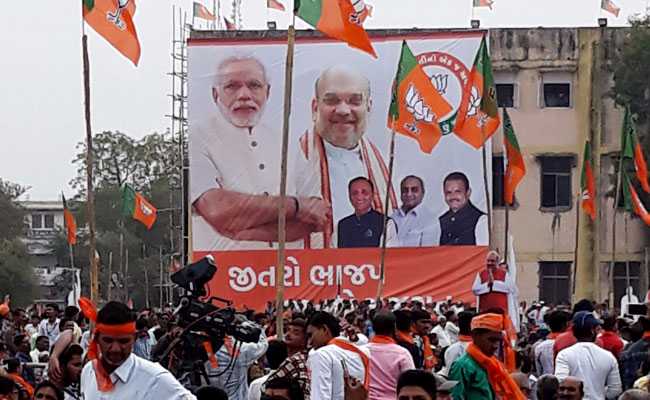 No question that Modi remains the most extra-ordinary figure in Indian politics, a man who made it on his own terms. The BJP's internal assessment is that there is a breach in the Patel votes but they expect other social groups to compensate for a loss of Patel votes.
Although a lot of media focus has been on the caste leaders who are newly aligned with the Congress (Hardik Patel, Alpesh Thakore, Jignesh Mevani), a BJP strategist says they are being overplayed by the media, which, he says, is overlooking what other social groups such as the Kolis are doing. Kolis make up 20 per cent of the population and are the largest social bloc in Gujarat.
Beyond Surat, where some losses are expected, the BJP believes that the urban centres in India's most urbanized state will remain with them. The reason, they say, that Modi has high personal credibility as a reformer, an agent of change.
Yet, even in the constituency where the rally took place, there are problems. A local and two-term MLA was made to step aside for a Patel in the face of the Patidar agitation. At the ground level, workers say that half the cadre is sulking and refusing to campaign. But most of them did turn up for the Modi appearance.
His draw remains immense - within and outside the party.
(Saba Naqvi is a journalist and an author.)
Disclaimer: The opinions expressed within this article are the personal opinions of the author. The facts and opinions appearing in the article do not reflect the views of NDTV and NDTV does not assume any responsibility or liability for the same.