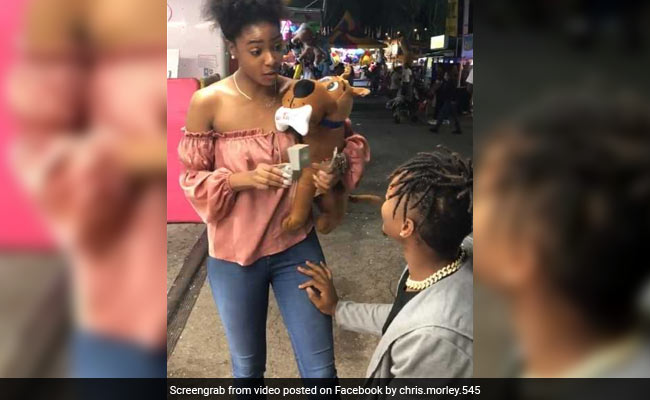 Chelsea Newble literally couldn't believe it when her boyfriend of two years got down on one knee to propose to her. Chris Morely, after all, loved to play pranks - only this time he was serious. The 24-year-old from Florida, USA, proposed to Chelsea at Santa's Enchanted Forest theme park with a ring, but she refused to believe it was for real. "Are you serious? No you're not," Chelsea can be heard saying in the video that has garnered over 11 million views on Facebook.
About 40 seconds later when she realises that the proposal is real, she breaks down into tears.
According to the
Daily Mail,
the couple was accompanied by Chelsea's mother and her sister when the proposal took place.
Chelsea told
ABC News
she was completely surprised because she considered the two already engaged.
"He proposed to me with Blow Pop rings at the movies. I cried," she said, adding that she never expected him to propose again with a diamond ring.
Watch the very sweet video below:
Since being shared on Facebook by Chris on December 26, the video has gone viral with over 11 million views and more than 1.3 lakh shares.
"She had like 5 different emotions. The things men do to us. So cute though," writes one user in the comments section. "I loved her reaction!...she is so adorable! What a lucky man," says another.
Click for more
trending news