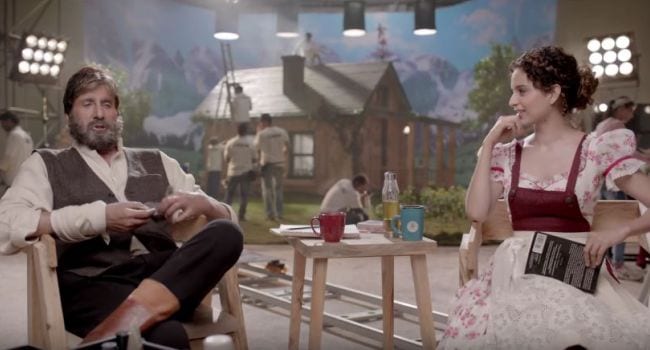 She's one of Bollywood's biggest stars and has two National Awards to her credit, but when she's face-to-face with the legendary Amitabh Bachchan, Kangana Ranaut is just like any other fangirl.
Or so it seems, according to this new ad that showcases one of Bollywood's coolest casting coups yet.
The commercial shows Big B and Kangana hanging out in-between shots, when tinseltown's resident
Queen
makes him a special request. Here's how their conversation goes:
"Sir
woh
dialogue
sunayi na, Shahenshah ka
?" she asks.
"
Kaunsa
?" asks Big B, while fixing his imitation-beard.
"
Rishte mein toh hum tumhare baap lagte hain
," replies Kangana hopefully.
"
Rishte mein toh hum tumhare baap lagte hain... naam hai Shahenshah
," comes Big B's distracted reply.
Feeling cheated, Kangana urges him to say it the way he did in the movie, baritone and all. Once more with attitude please. This time, the
Shahenshah
delivers.
Encouraged by Big B's willingness, she then makes a few more requests - please sir, could you say this line from
Amar Prem
, that one from
Deewar
, and this other one from
Mr India
? So what if they weren't originally spoken by Big B at all, huh?
So what does he do in this situation? We'll let you watch the video below to see what happens when Kangana pushes her luck.