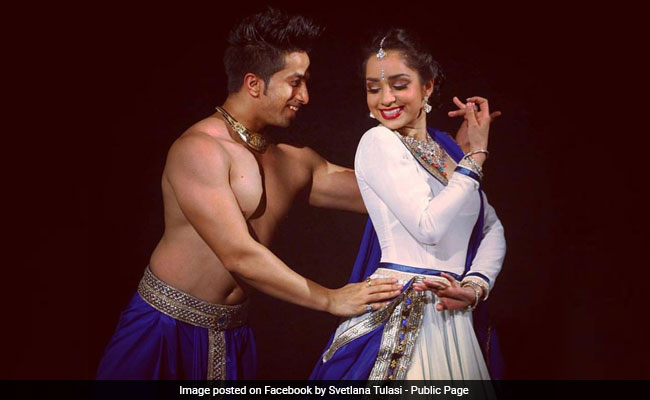 New Delhi:
Russians don't typically turn on their TVs expecting to see Indian classical dance performances on but if Svetlana Tulasi has her way, they might soon. The trained Kathak dancer is lighting the small screen in Russia on fire after a stunning Kathak-Bollywood dance fusion piece on the reality TV show
Russia's Got Talent
. She recently posted a clip of the performance on YouTube and the Internet is impressed.
Ms Tulasi danced with her partner Kumar Sharma on the song
Jag Ghoomeya
from the hit Bollywood film
Sultan
, starring Salman Khan and Anushka Sharma.
The dance performance begins about 2.46 minutes in to the 10.29 clip. Watch it here:
Don't forget to turn on the subtitles if you want to listen in to the judge's reactions. Be warned that the translation is a little off but it's easy to figure out what they probably intended to say.
The performance was part of the semi-finals and after that mesmerising performance and the judge's glowing remarks, the duo is through to the final round.
Ms Tulasi's father was from Hyderabad, India and her mother is from Moscow. She says learning Indian classical dance helps her learn more about India.
"Great to see an Indian traditional dance at a foreign land," comments Soumya Pahuja on the video.
"Congrats and best of luck Svetlana, you make India and Russia proud, keep doing the good work," writes Prajwal Hegde.
"I have seen many people perform Bollywood Kathak but this was the best," adds Shashaank Dey.
Ms Tulasi previously participated in
Ukraine's Got Talent
. She recently made her Bollywood debut with a supporting role in Imtiaz Ali's
Tamasha
, starring Ranbir Kapoor and Deepika Padukone.
Click
here for more trending stories
.