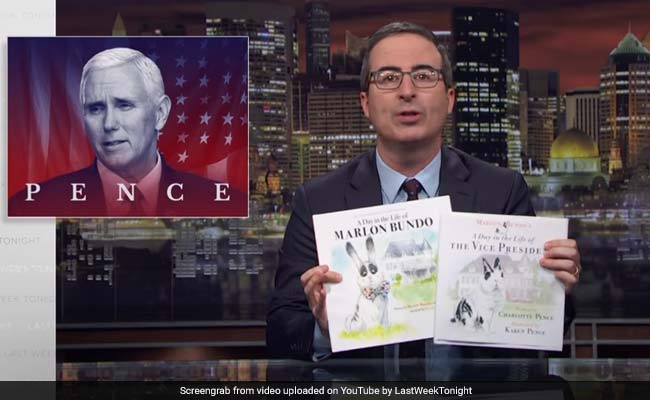 Last week,The Washington Post brought you news of "Marlon Bundo's A Day in the Life of the Vice President," the furry new tale about the real White House pet rabbit. The children's book, which lands Monday, is illustrated by second lady Karen Pence and written by daughter Charlotte Pence.
And now, on "Last Week Tonight," host John Oliver announced Sunday night that he is releasing a politically pointed sendup of the Pence book, titled "A Day in the Life of Marlon Bundo," as penned by Jill Twiss, a writer on Oliver's HBO show, and illustrated by EG Keller.
The key difference is, Oliver's picture book is about a "Very Special boy bunny who falls in love with another boy bunny," according to the book's description.
Oliver announced his book toward the end of a segment in which he skewered Vice President Mike Pence's social conservatism, especially, the host said, "his hostility to LGBT rights" and his record of not being "a friend to the gay community." Oliver also noted that the Pence book tour includes a Colorado stop at the Focus on the Family organization, which, the host said, promotes gay-conversion therapy.
So, "It turns out, in a complete coincidence, we also wrote a book about Mike Pence's rabbit that has also been published," Oliver said on Sunday's show. "In fact, while his is out tomorrow, ours is released right now.
"Now, there are a few small differences between the two books. . . . Our Marlon Bundo is gay."
Indeed, Oliver's "A Day in the Life of Marlon Bundo" is already out from Chronicle Books, which cites the book's "message of tolerance and advocacy" as it "explores issues of same sex marriage and democracy," as well as its dedication "to every bunny who has ever felt different."
The publisher says that all proceeds from Oliver's book - which topped the Amazon bestseller chart by Monday morning - will go to AIDS United and the Trevor Project, which focuses on suicide prevention for LGBTQ youth.
On "Last Week Tonight," Oliver also played an animated teaser for his children's book. His "Marlon Bundo" audiobook (Partially Important Productions) features narration from such celebrity voices as Jim Parsons, John Lithgow, RuPaul, Ellie Kemper and Jesse Tyler Ferguson.
Among other late-night hosts, ABC's Jimmy Kimmel offered a short on-air spoof last year of the Pences' Marlon Bundo book.
Karen Pence is an award-winning watercolor artist and educator who believes in the power of art therapy.
Proceeds from her family's sales-charting "Marlon Bundo's A Day in the Life of the Vice President" (Regnery Kids) will be donated to Tracy's Kids, which helps young cancer patients through the use of art therapy. Amazon founder Jeff Bezos owns The Washington Post.
(Except for the headline, this story has not been edited by NDTV staff and is published from a syndicated feed.)
Click for more
trending news