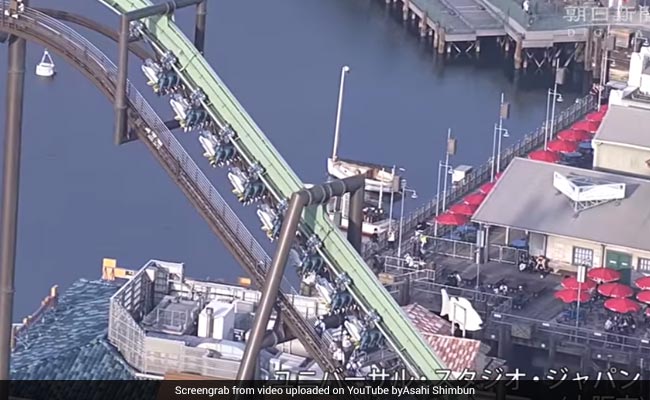 In what many will cite as their excuse for not sitting on scary rides at amusement parks, a rollercoaster at Universal Studios in Japan suddenly stopped mid-ride, reports
Kyodo News
. The rollercoaster's sudden halt left over 60 people hanging upside down for up to two hours as theme park workers began rescue efforts. Fortunately, no injuries were reported.
As many as 64 people were riding on the Jurassic Park-inspired "Flying Dinosaur" rollercoaster when it suddenly stopped on Tuesday.
According to local media reports, two separate carriages stopped - one during its upward climb and another before reaching the terminal. Detecting these issues, the rollercoaster's safety device was activated.
A
video posted on YouTube
by Japanese newspaper
Asahi Shimbun
shows just how high the riders were stuck. The footage, filmed from a helicopter, captures the tense rescue operations. The amusement park's staff worked to help people unbuckle and get off the ride safely.
Watch the video below:
The ride was restarted about two hours later and despite the snags, several people at the park lined up to try the ride.
In March, Japan's
"slowest rollercoaster" derailed and stopped mid-ride
at Tokyo's Arakawa Amusement Park. Passengers didn't even realise what happened.Click for more
trending news