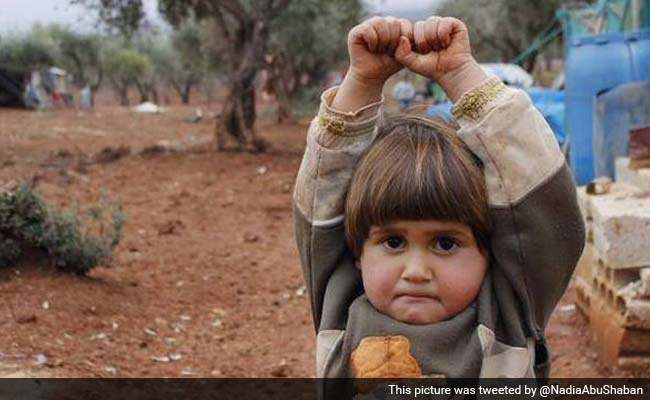 It is the saddest possible comment on the conflict in Syria, in which millions of children have been displaced or otherwise affected. An image tweeted by photojournalist Nadia AbuShaban shows a four-year-old Syrian child 'surrendering' after mistaking a camera for a gun.
The toddler gazes into the lens with lips pursed, eyes grim, arms raised, frozen with fear.
photojournalist took this photo 4 Syrian child, thought he has a weapon not a camera so she Gave up ! #Surrendedpic.twitter.com/bm1hOWQWJY

- Nadia AbuShaban (@NadiaAbuShaban) March 24, 2015
The photo, reportedly taken at a Syrian refugee camp by Turkish journalist Osman Sagirli, has been retweeted over 10,000 times since it was first posted on March 24.
The image appears to have been sourced from this un-dated newspaper article.
BBC spoke to the photographer, Osman Sagirli who said the picture is of a four-year-old girl, Hudea and was taken at an Atmeh refugee camp in Syria in 2014.
Says Sagirli, "I was using a telephoto lens, and she thought it was a weapon. I realised she was terrified after I took it, and looked at the picture, because she bit her lips and raised her hands. Normally kids run away, hide their faces or smile when they see a camera... It makes more sense to see what they have suffered not through adults, but through children. It is the children who reflect the feelings with their innocence."
The photo has prompted an emotional outpouring on Twitter:
@AIMEEPATERSON We are failing the younger generations and those still to come. SHAME ON US.

- Ana Belén Martinez (@AnaB_Martinez) March 27, 2015
@amelscript@NadiaAbuShaban Shame on Humanity Shame on UN , Shame on The Leaders of the so called Free World . Shame !!!

- Nirvikar Singh (@singh_nirvikar) March 26, 2015
Does it get any worse ? #syrianchild#surrendedpic.twitter.com/qwxL5crAIV

- Rizwan FCB (@RizRzn) March 28, 2015
@amelscript@tavleen_singh@NadiaAbuShaban this made me tear up!how can this not melt the warmongers

- Sarveshi Shukla (@Sarveshi) March 26, 2015
@NadiaAbuShaban I feel so sorry for this baby. Kids deserve better.

- Aman Malik (@PatrakaarPopat) March 27, 2015
The fear in this child's eyes is daunting Our ineptitude & apathy towards the Syrian plight will haunt us for decades pic.twitter.com/1fiU0xZk0y

- Youssef Kobo (@Youssef_Kobo) March 28, 2015