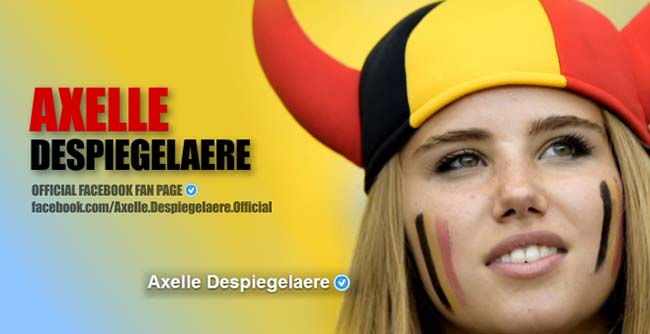 FIFA World Cup 2014 is a roller-coaster of unexpected events, a gamut of highly-charged emotions and the center-stage of theatrics, both on and off the field. And the credit for most of this, of course, goes to the fans; for what would a football stadium be without their roaring approval? This, however, is the story of one particular Belgian fan who came to Brazil to root for her country and returned home with a little more than she expected.
After losing to Argentina in the quarter finals, the Belgium football team may not have managed to bring much joy to 17 year old Axelle Despiegelaere, but her trip to Brazil has not been for nothing. After a picture of her cheering for her team went viral on social media, Axelle's life has changed forever.
This leggy beauty's pictures took over the internet and print media and she has,
since then become a celebrity on Facebook, with her fan page garnering over 27k likes and counting!
And it doesn't stop at that. She landed a hefty endorsement deal with cosmetic giant, L'Oreal and then lost it thanks to a controverial hunting picture which was posted on her fan page.
Here's Axelle's journey from just one of the many football fans, to a mini celebrity to a soon-to be model to a controversial face:
So they saw Axelle (L) cheering for her team and took a picture. After a few thousand shares on social media, she became a mini celebrity.
The local papers loved her.
(Left bottom: That's her)
This football fan now had fans of her own and they loved her just as much as the media did. Yes, they loved her enough to make this:

Things got to a point where L'Oreal signed her up, a brand we associate with Bollywood superstars, Aishwarya Rai and Sonam Kapoor. Amazing, right? Well not really. Soon after, an image of Axelle hunting showed up on her fan page, with a caption that stirred up a storm.
L'Oreal was quick to take back its contract declaring that Axelle had already finished her assignment with them by doing this video. Okay. If you say so, L'Oreal. But it sounds terribly like she was sent packing for joking about animal cruelty. No?