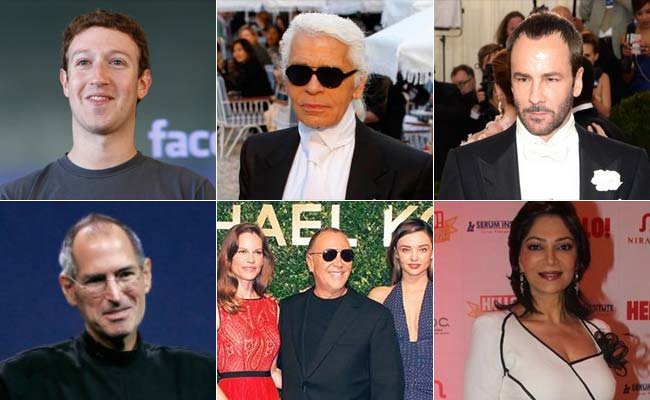 If you grew up staring at beloved members of supercool TV families Simpsons, Flintstones and Jetsons, you probably know that swag has nothing to do with the clothes one wears and that donning the same outfit everyday can be an art of sorts.
There are men and women, some of whom work in the fashion industry, who choose to dress in the 'same' (read identical) clothes daily and manage to look exceptional. Whoever said repeating outfits is a fashion faux pas can eat their words.
These rare few can be broadly categorized into two categories - the ones who wear only black and those who swear by white. However, there is no escaping the shades of gray, thanks to Facebook boss Mark Zuckerberg.
Call it a uniform or whatever else you want, it's not going to dim their sparkle. Even in the face of criticism these monochrome lovers remain poised and self-assured.
We list here five trademark looks:
Mark Zuckerberg
: Always bet on spotting Zuckerberg in a gray t-shirt, chances are you'll win. "I really want to clear my life to make it so that I have to make as few decisions as possible about anything except how to best serve this community," Zuckerberg said in his first-ever public Q&A on Facebook. He clarified that he has "multiple same t-shirts."
Steve Jobs
: He believed in simple yet impactful designs. His love for simplicity transcended to his wardrobe, which in all likelihood had multiple black polonecks and blue jeans.
Simi Garewal
: She looks like a vision in white, each and every time.
Karl Lagerfeld
: The Chanel creative director is recognizable all around the world courtesy his black finger gloves, white collared shirt, tailored suit and sunglasses.
Tom Ford
- He NEVER goes out without his white shirt. His entire look revolves around it.
Michael Kors
: He has a simple philosophy - for an informal do, pair a black suit with a black round neck t-shirt; for a formal event, swap the t-shirt with a white shirt. He is sorted. For life.