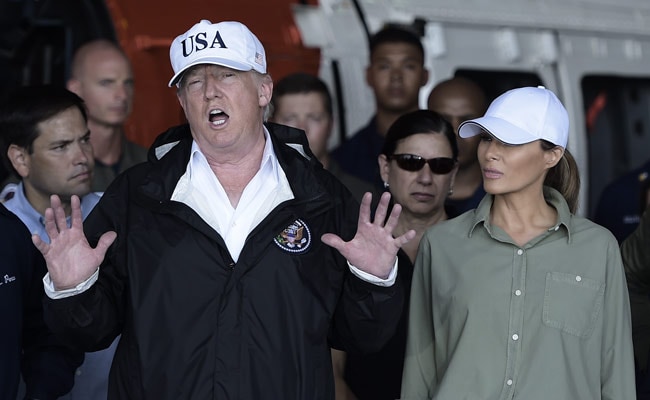 In his latest gaffe, US President Donald Trump seemingly forgot the first lady was standing right next to him as he said "she really wanted to be with us" in a speech about Hurricane Irma rescue work.
While speaking to on-ground rescue teams, he said, "I just want to thank everybody, the first responders, on behalf of myself, our vice-President. Melania really wanted to be with us, it's really touched her heart."
Except that she was there, next to him. Err.
The first lady, though, kept a straight face and nodded when the president mentioned her.
The video is from a September 14 briefing by the POTUS in Fort Myers on the rescue efforts in hurricane-hit Florida.
Jump to 1:00 to watch the apparent goof-up:
If you're confused by the clip, you're not alone. Social media too wondered what was going on with Donald Trump
And here, we have video of Trump saying that Melania "really wanted to be here"...while she's standing next to him. (h/t @MaverickofKain) pic.twitter.com/rvQCUo4RYB

— Holly O'Reilly (@AynRandPaulRyan) September 21, 2017
If this doesn't demonstrate a complete break with reality, then I don't know what does!! The look on Melanie's face is clearly being stunned

— Maureen Startin (@MaureenStartin) September 22, 2017
Oh. Donald Trump completely forgot Melania existed during a speech last week. - Mamamia News
Hilarious;) https://t.co/GSOiHuSRlm

— Kiwi shame (@Tosproget16) September 24, 2017
Trump Says "Melania Really Wanted to Be With Us"-While She's Standing Next to Him https://t.co/daFDH5hx5T Hope he forgets the nuclear codes.

— Dr. Brian Goldman (@NightShiftMD) September 24, 2017
Great marriage is when your wife is always with you...even when she is. https://t.co/GsWtKiVZju

— Danna (@dplewe) September 23, 2017
There's something seriously wrong with this guy.

— Richard Epcar (@RichardEpcar) September 22, 2017
Though many came to his defense that the US president was probably just speaking on her behalf.Click for more
trending news