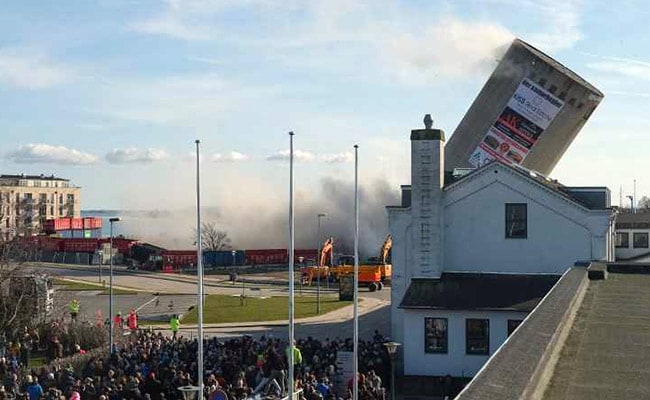 The demolition of a tall concrete structure went horribly wrong when it fell the opposite way and ended up crushing a neighbouring building. The controlled demolition took place in Denmark on Friday. Onlookers gasped in horror as the 53-metre silo collapsed and landed on the local library in the town of Vordingborg.
Fortunately, nobody was hurt during the demolition fail.
According to local media reports, hundreds of spectators had gathered to witness the planned explosion on Friday evening. Instead, they got to see the completely unplanned destruction of a nearby building that houses a library and cultural centre.
But posting photos of the aftermath of the demolition on Facebook, Vordingborg's local government revealed that despite suffering damage to the exterior, the building's interiors were more or less intact.
They explained that volunteers helped to clean up the incredible amounts of dust and debris - including shards of glass - from the building.
Denmark's TV East posted incredible footage of the moment the silo fell.
Click here
to see it.
The Danish news network reports that it's still unclear why instead of landing on the site specifically cleared out for it, the silo fell in the opposite direction.
Kenneth Wegge
, the man responsible for overseeing the blast, told TV East he had no peace of mind after his "worst nightmare" came true.
Authorities say Mr Wegge went by procedure and seems to have
done everything correctly
. Investigations into why the tower fell in the wrong direction are currently underway. Click for more
trending news