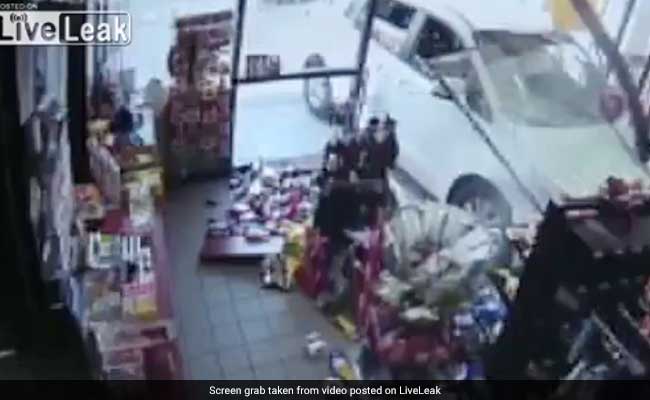 Highlights
Dramatic CCTV footage shows white minivan driving into store in New York
A customer is briefly pinned between two shelves after the crash
He manages to escape the debris with minor injuries
Bronx, New York:
Surveillance footage taken from CCTVs inside a store in New York shows the exact moment a vehicle crashed through its store front. A customer was briefly pinned between two shelves that were pushed together in the freak accident. In the footage, posted on LiveLeak, the man is seen browsing the aisles of the store when, suddenly, a white minivan comes crashing through. The customer is momentarily sandwiched between two shelves. He manages to stumble away within seconds, but it is clear that he is hurt.
The driver, still conscious after the crash, does not exit the car. At least two passengers can be seen getting out of the vehicle. Both seem unhurt.
(Scroll down to watch the video)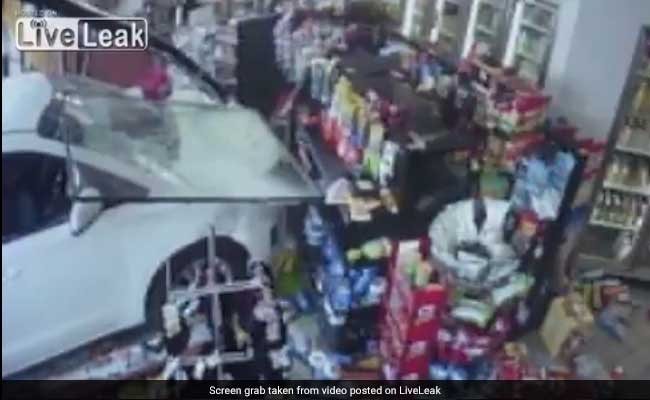 Local media
reports the customer to be 37-year-old Marcus Collado. Eyewitnesses say he was treated on the scene by emergency medical personnel before being taken to a nearby hospital. He managed to escape with only minor injuries.
Talip Abunagim
, the clerk behind the counter at the time, says the collision happened so quickly, there was barely any time to react. "I could have died," he says, in shock.
Footage from another angle shows the vehicle steadily inching towards the store before the accident. It is still not clear why the driver lost control, but local police say no charges are going to be filed.
The driver, a 65-year-old woman, was taken to the hospital. However, she was not seriously hurt.
"I have no idea how much this is going to cost," Nash Kiswani, the owner of the store said, referring to the repair work. "We don't see this every day, you know."
But he is glad nobody was seriously hurt in the crash. "(My customer) got very lucky...you see the video, unbelievable."