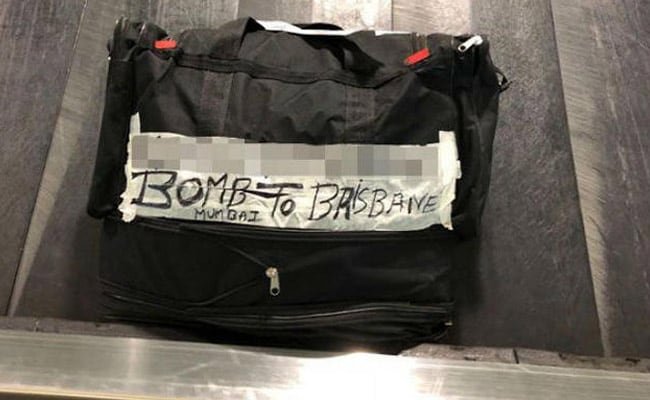 New Delhi:
On Wednesday morning, passengers at the Brisbane International Airport in Australia were shocked when they saw a bag on the luggage belt emblazoned with the words "Bomb to Brisbane". The suspicious piece of luggage, which sparked security fears at the airport, actually belonged to a grandma who meant to write Bombay, not bomb!
Venkata Lakshmi, 65, was greeted by officers from the Australian Federal Police at the Brisbane airport, where she had travelled from Mumbai, reports
Yahoo News
.
Ms Lakshmi's daughter, Devi Jothiraj, who has lived in Australia for 10 years, revealed to Yahoo News her mother was mortified over what she described as "a mix-up".
"My mother told me they thought something was in there and people were panicking. They asked her to open the bag and asked her why it says bomb and she said 'It's for Bombay!'".
Ms Lakshmi, who was travelling to Australia to celebrate her birthday with her daughter and her family, was apparently nervous about flying alone and wanted to write the airport she departed from and her destination on her bag.
"She began writing Bombay before realising she had no space to fit it all in so she stopped at Bomb and wrote Bomb to Brisbane with Mumbai underneath."
Her innocent mistake, however, left many panicking at the Brisbane airport, where an area near the baggage carousel was cordoned off and passengers ushered away.
"It was with a whole bunch of bags and I just saw the word 'bomb'," a passenger who spotted the bag next to hers at the airport told
Yahoo News
.
Though Ms Lakshmi was pulled in for an interview by the Australian Federal Police, they soon realised that the whole thing was a misunderstanding and let her go after checking the contents of her bag.
Ms Jothiraj said that her mother told her the bag hadn't raised any eyebrows when it was dropped off in Mumbai.
Click for more
trending news