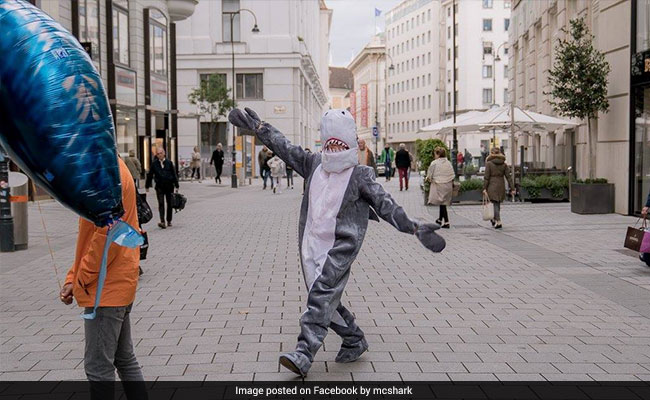 Vienna, Austria:
Barely a week ago, Austria put in place a new law banning burqa (full Islamic veil) and any face-concealing item in public. But the controversial new law is already causing some confusion. A victim of that confusion was a man dressed like a shark, the latest to be ensnared, authorities admitted.
"This is a new law so naturally there are certain unclear situations and grey areas that need to be ironed out," Manfred Reinthaler from Vienna police told public radio.
"At the same time there is no legal precedence."
The man was in a full-body shark costume to promote opening of a new electronics store - McShark - and refused to take off the shark head.
"I'm just doing my job," the unnamed shark mascot told Austrian newspaper
Heute
.
The shark was fined 150 euros.
The promotion was conceived by Austrian advertising agency Warda Network that posted on Facebook a photo of a disgruntled-looking mascot outside the store juxtaposed with an image of cops speaking to McShark employees.
Photos posted by the store showed the shark - in happier times.
Austria is the latest European country to ban the wearing of the full Islamic veil, known as the burqa or the niqab, in public places. The law came into force on October 1.
But in order to avoid being sued for discrimination, the government outlawed at the same time any item of clothing that covers the face. Government guidelines set out a number of exceptions including masks and disguises at cultural events, work wear such as medical masks, and scarves in cold weather.
But the shark costume case and officers reportedly stopping a girl cycling in a scarf show that some police remain bewildered.
"Lawmakers did not set out the temperature (when a scarf could be worn)," said interior ministry spokesman Karl-Heinz Grundboeck.Click for more
trending news