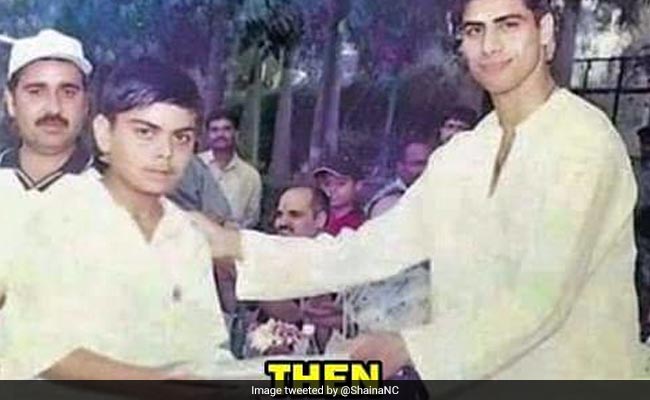 If you've spent any time on social media today, chances are you've seen several posts on cricketer Ashish Nehra. Calling time on his cricket career, the 38-year-old bowler played his last International match yesterday in Delhi. The pacer received a wonderful farewell from his team mates as well as cricket lovers all over. As social media buzzed with farewell messages for Nehra, an old picture made an expected and welcome reappearance on timelines. The picture, which will tug on any cricket lover's heartstrings, shows the bowler with none other than Virat Kohli long before he became Team India captain... or even began playing International cricket.
The picture being shared by many on Twitter shows Nehra handing an award to a very young Kohli. Many on Twitter have been sharing the picture along with current photos from the farewell.
Here's one of many such tweets.
Last Test Match: #Ganguly



Last ODI Match: #Dhoni

Last T20 Match: #Kohli

*END OF A. NEHRA*

Never give up Attitude!#NehraJipic.twitter.com/ikuYYUTMaA- ShainaNC (@ShainaNC) November 1, 2017
"That picture has become more popular because of where Virat Kohli is today," Nehra said during a press conference. "It's been a great journey," he added.
Kohli too
spoke about the picture
. "That was back in 2003 after he had come back from the World Cup. I was 13 then and struggling for a place in the school team," said Kohli.
Here's how people have been tweeting the picture:
What Goes Around Comes Back Around.#AshishNehra Ashish Nehra #ThankYouNehraJi#NehraJipic.twitter.com/2VMHrhij75

- Sir Jadeja (@SirJadeja) November 1, 2017
When Nehra started his career kohli was just 11year old.

Now Nehra is playing his last game under his captaincy. What a journey it's been. pic.twitter.com/x920Qt7Hjs

- Virat Kohli FC (@ViratKohIiFC) November 1, 2017
Pic Of 2003 ( Top Photo )

Virat Kohli Age - 14
Nehra Age - 24

Pic of 2017 ( Below Photo )

Virat Kohli Age - 28
Nehra Age - 38 pic.twitter.com/WgqwPwH3tL

- Johns(@CricCrazyJohns) November 2, 2017
Proud moment for both Ashish Nehra and Virat Kohli.#INDvNZpic.twitter.com/TPBDu7SeVv

- #INDvNZ (@AtrangiVichar) November 1, 2017
When Nehra started his career kohli was just 11year old.



Now Nehra is playing his last game under his captaincy. What a journey it's been. pic.twitter.com/sZJcjE0ymR- Theriteam Mass (@Theriteammass) November 1, 2017
PicTo Pic,

Thank you Nehra Ji !#ThankYouNehraJi#AshishNehrapic.twitter.com/l0AeOZBcdi

- Virat Kohli FanTeam(@ViratFanTeam) November 1, 2017
Virat Kohli & Ashish Nehra, then & now. Nehra playing T20 today under Vrat Kohli. Nehra's last match. Well played Nehra. pic.twitter.com/6S4oZhM3Cs

- arvind pratap singh (@DrHaulat) November 1, 2017
Virat Kohli & Ashish Nehra, then & now. Nehra playing T20 today under Vrat Kohli. Nehra's last match. Well played Nehra. pic.twitter.com/6S4oZhM3Cs

- arvind pratap singh (@DrHaulat) November 1, 2017
So many of you took the trouble of pulling out the old and the new Nehra and Kohli photographs post the commentary mention. Thanks

- Harsha Bhogle (@bhogleharsha) November 1, 2017
Share your thoughts on this picture in the comments section below.Click for more
trending news