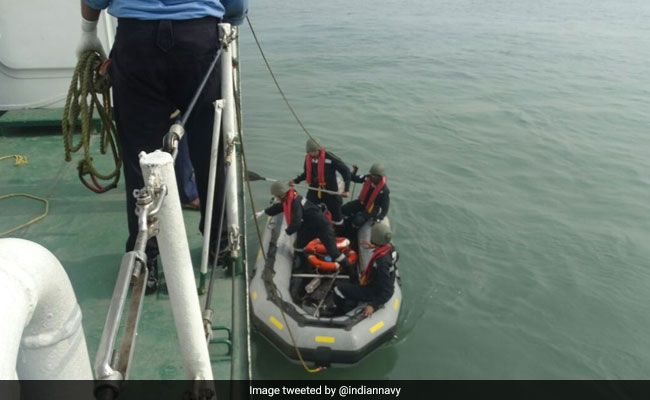 Mumbai:
Police on Monday registered an Accidental Death Report (ADR) in the Pawan Hans helicopter crash of Saturday which killed five senior ONGC personnel besides two pilots, a police official said here.
Meanwhile, on the third day of search in the high seas, the rescuers located the last remaining body - of the missing pilot, an Indian Coast Guard spokesperson said today.
Earlier the rescue teams of Indian Navy and the Coast Guard had recovered six bodies on Saturday, including the five ONGC deputy general managers who perished and one of the pilots.
ICG ship Samrat found the pilot's body while ONGC vessel Samudra Sevak in the crash site recovered more debris of the crashed Dauphin helicopter, including rotor blades, main gear box, tail gear box, both engines, emergency locator transmitter and other items from the Arabian Sea.
A high-level ONGC team met top Coast Guard officials to assess the situation arising out of the tragedy and formulate further strategy for the recovery of the debris of the crashed chopper and parts of the victims' bodies, if any.
After registering a case at the Santacruz Police Station, it was transferred to the Yellowgate Police Station in south Mumbai for further action, said Deputy Commissioner of Police, Port Zone, Rashmi Karandikar.
She said that after the detailed investigations are complete, Mumbai police will submit its probe report to the central and state governments.
Officials said though the helicopter took from Juhu Airport which is under the jurisdiction of the Santacruz Police Station, it has been transferred to Yellowgate Police which exclusively handles investigations into all sea-related cases and off-shore incidents.
On January 13 morning, the PHL chopper crashed after it went missing from the radars barely 15 minutes after take-off from Juhu Airport while on a regular sortie to ferry the ONGC personnel to the Bombay High gas-oil fields, around 175 kms from here.
According to available information, the chopper had been recently inspected and was carrying more than three hours of fuel onboard when it took off at 10.14 am.
As per established procedures, the pilots changed their radio contact from Juhu ATC to a control manned from the ONGC oil rig at around 10.25 am, and remained in touch with the oil rig control for about two minutes or 10 kms before the chopper lost all contact with surface when it was around 55 kms from Mumbai over the high seas.
The chopper was expected to land at one of the oil platforms around 11 am, which it never did.
(This story has not been edited by NDTV staff and is auto-generated from a syndicated feed.)