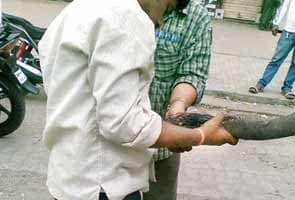 Mumbai:
Everyone must be aware of the idiom "even a dead elephant is worth a lakh". However, very few would know that the hair of the giant animal too fetches a hefty sum.
According to Plants and Animal Welfare society, an NGO, mahouts in the city are minting money by selling the hair plucked from the elephant's tail. After learning that the sale is rampant in the suburbs, the NGO reported the matter to the Bhandup police.
"A person had clicked pictures of the mahout selling the hair. Hence, we have sent a letter to Bhandup police station seeking action against him. Trading such products is a blatant violation of the Wildlife Protection Act 1971 and Prevention of Cruelty to Animals Act 1960," said PAWS Secretary Sunish Subramaniyam.
Superstition
It's believed that if one wears an ornament, which is made by using elephant's hair, he will be blessed with love, health and prosperity. Cashing upon the superstition, the mahouts sell the hair by plucking it from roots and thereby giving immense pain to the animal.
"A long hair costs thousands of rupees. Upon enquiry, a dealer was ready to sell me a hair for a ring for Rs 3,000," said Subramaniyam.
"The NGO has brought the matter to our notice. In order to record their statement, which will facilitate necessary action, we have asked the NGO members to come to the police station," said Shrirang Nadgauda, senior PI of Bhandup police station.
In a state of shock!
It's widely known that elephants are hunted for their tusks, which are used to make showpieces and ornaments. However, the animal right activists were shocked to learn that elephant hair too is being sold on the streets of Mumbai.
"It's against the law to use animals in weddings or even take them out on busy streets. We have even filed a complaint with the forest department regarding the issue," said Subramaniyam.
Say no
Chief Forest Conservator RK Pole, said, "If the mahout is selling the fallen hair, it's okay. However, if he's hurting the animal for the hair, we'll take strong action against him. In the meantime, we'll initiate an inquiry into the matter. Also, we request people to avoid buying such products."