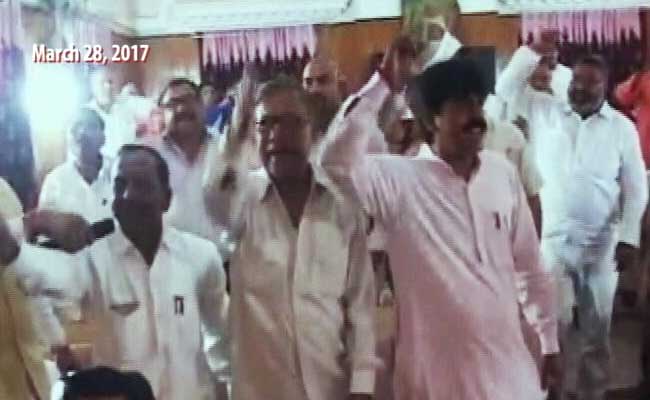 Meerut:
Seven Muslim councillors in the civic body in Uttar Pradesh's Meerut face expulsion for refusing to sing national song "Vande Mataram".
On Tuesday, a group of Muslim councillors left the meeting hall of the Municipal Corporation House while Vande Mataram was being sung.
For years, those who do not want to sing along have been allowed to leave the hall and return after the song is over. For the first time, however, the councillors are facing tough action. As they were walking out, they were heckled and taunted by their colleagues.
The municipal board was meeting for the first time since a new BJP government led by Yogi Adityanath came to power 11 days ago.
In the row that erupted in the house, Mayor Shrikant Ahluwalia reportedly proposed that the singing of Vande Mataram must be mandatory for all members and those who refuse should be expelled.
The proposal was not allowed by the Municipal Commissioner.
Muslim members say they will move court if needed, as the song is against their religious beliefs. The Sharia law, they say, does not allow them to sing Vande Mataram because it glorifies the country as God.
"The seven Muslim councillors of the House had walked out on Tuesday when other members started singing the national song. They returned after some time, but I refused to let them in," Mr Ahluwalia was quoted as telling the Press Trust of India.
"We will not allow members who are against the singing of Vande Mataram to sit in the House. We will even go to jail, if required," he said.
One of the councillors facing action, Shaahid Abbasi, said: "We are being looked at with suspicion even when we ready to lay down our lives for our country."
Khalid Rasheed of the All India Muslim Personal Law Board said, "If you stay and don't sing, it is fine. But if you leave the room, it seems like a walkout, so maybe the councillors should consider that."
In a house of 80, the BJP has the most members - 45. There are 25 Muslim councillors in the Meerut civic body.